The holiday season is upon us. This means it's the time of year that we want to look our best for holiday gatherings and parties. Working out regularly can help us accomplish this goal. The problem many of you may have is deciding which type of workout to follow, especially when you don't have a lot of time. In this article personal trainer and kettlebell instructor Adrienne Harvey provides workout advice to help you get in an effective total body workout even if you only have 15 minutes to work out.
During the holiday season its VERY easy to justify missing workouts because you're so busy running around, trying to get everything done. A big thing to remember is that a workout doesn't have to take a long
time – you can accomplish a lot in a short period using high intensity intervals with or without any exercise equipment. It's no secret that I'm really into kettlebells, and they lend themselves well to this sort of training – using a moderate weight kettlebell, I can get in a quick 15 minute total body workout with the following: 5 minutes kettlebell swings (30 of seconds swings, 30 seconds rest), and 10 minutes of practicing Turkish get ups.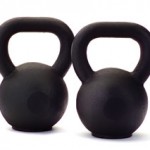 You can get in a great workout doing body weight exercises too. Simply knocking out two 4 minute sets of burpees or mountain climbers (20 seconds work, 10 seconds rest) will give you a great workout. A workout doesn't have to take a long time in order for it to "count". Instead of jogging on a treadmill or elliptical machine for an eternity give the workouts in this article a try. You'll stay fit and look your best throughout the holiday season and go into the New Year looking great too.
10 minutes? 15 minutes? Plenty of time – no excuses!
About Adrienne Harvey
Adrienne Harvey is a RKC Level 2 Instructor and Certified Personal Trainer (American Council on Exercise). You learn more about her at her website www.giryagirl.com.