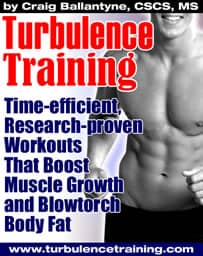 A search for weight loss products on Google returns 42,800,000 results. This is a staggering amount shows how finding a product that may be able to assist your efforts to lose weight is confusing and difficult. We wrote this article to make finding a product that can help you a lot easier. In it are 3 of our favorite products to use when you want to lose weight and body fat to look your best. Some of the criteria we used in selecting these products are their: price, convenience, ease of use, and evidence the product works (customer reviews, etc.).
1. Turbulence Training
Developed by Craig Ballantyne, Turbulence Training is designed to help you lose body fat and maintain or even build muscle at the same time. Thousands of customers have used it to lose tens of thousands of pounds. We really like the fact that it comes with over 12 weeks worth of workouts that can done using as little equipment as your own body weight, dumb bells, and an exercise ball. Another great thing is each workout is designed using training principles that are proven both in the gym and the lab to increase the calories your body burns from stored body fat, without doing tons of boring cardio. Instead, you only have to train 3 times a week for about 30-45 minutes a workout.
When you buy Turbulence Training you also get several additional workouts, diet and nutrition eBooks, and free online support for 30 days. The entire fat loss workout plan costs $19.95 which a great deal considering what it provides. Getting started with the Turbulence Training plan right away is easy to do since it is sold as a downloadable eBook. If you want an easy to learn, convenient, super intense and effective weight loss workout plan, Turbulence Training is for you.
Click here to buy Turbulence Training.
2. Kettlebells
Perform Better First Place kettlebells can help you get in an intense, calorie burning workout without the need to use any other equipment. All you need is a First Place kettlebell or two and enough space to lift and swing them around. When it comes to an effective weight loss workout you can't beat doing complexes, circuits, and swings with a kettlebell.
You'll also like the fact that the handles on First Place kettlebell are surfaced to prevent them from slipping from your hands. They aren't going to break or wear out either. Since they are constructed of cast iron you don't have to worry about them every splitting or cracking.
You can buy First Place kettlebells at PerformBetter.com in weights ranging from 8.8 to 96.8 lbs.
AccuFitness MyoTape
While weighing yourself is one way to track your progress it's not the only method you should use. This is because your scale weight can fluctuate so much. You should also measure your waist, hips, and other body parts regularly to track your progress. The Myotape makes taking these measurements easy. You don't even need someone to take the measurements for you.
At cost of less than $5.00 the Myotape is a piece of fitness equipment you can't afford to be without.