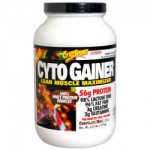 Studies show creatine can help you gain 5 or more pounds in a month. When you drink at least a serving every day, weight gain shakes can help you gain an extra pound a week, possibly more. Adding creatine to weight gainers may therefore enable you to gain weight and build muscle faster than using either supplement alone.
Listed below are the weight gain powders with creatine that we chose as the best available. Our selections were based on several requirements*. Use this list to save time and buy the best product.
AST Muscle XGF
3 grams of creatine monohydrate and 350 calories per shake. 34 grams of protein from whey, casein, and milk proteins. Only 9 grams of carbohydrates (7 sugars) per serving.
Click here to buy AST Muscle XGF at Bodybuilding.com.
CytoSport Cyto Gainer
Each 570 calorie shake has 3 grams of creatine monohydrate. 54 grams of whey protein. 7 grams of sugar. No fructose or sucrose. Aminogen added to better digest and utilize protein and amino acids. 98% lactose free.
Click here to buy Cytosport Cytogainer.
Higher Power Ultimate Mass
The most creatine monohydrate (5 grams) per serving of all the shakes in this list. 580 calories. 55 grams of protein (whey). Added branch chain aminos and digestive enzymes. Low in sugar. Certificate of analysis on product page guarantees every shake you drink has the calories and ingredients on the label. Best price and overall value among the weight gainers on this list.
Click here to buy Higher Power Ultimate Mass at Bodybuilding.com
If, for some reason you have a favorite weight gainer that you just don't want to switch from but want to see if combining creatine can help you gain faster, just add a scoop of creatine monohydrate powder to your shakes. We recommend Optimum Micronized Creatine Powder – 2000 grams because of its purity, quality, and great price.
*Requirements used to select the weight gainers in this post include:

Creatine monohydrate should be the type of creatine used. This is type found in scientific studies to be most effective for building muscle and gaining weight.
Each serving needs to have at least 3 grams of creatine. This is the minimum amount you can take daily to see results.
There should be at least 350 calories per shake.
Minimal sugars (20 grams max) in each serving to minimize the risk of gaining body fat.
Whey and casein should be among the proteins used.