There are dozens of weight gain shakes available, many of which provide you little more than empty calories from simple sugars and inferior proteins. The only thing these products do is help you get fat, instead of muscle which is what you really want. I figured there had to be at least a few effective weight gain supplements out there and reviewed them all to find the best.
To find the best weight gainers available I reviewed several factors including: their nutritional profiles (calories, protein, carbohydrates, fats), key ingredients, and customer reviews of several popular products. The three products I choose as the best weight gain shakes are Cytosport Cytogainer, Cytosport Monster Mass, and Inner Armour Mass-PEAK. Read our review of each weight gain shake below to learn which is best for you.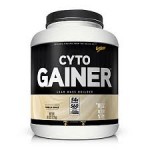 Cytosport Cytogainer
Cytogainer is a weight gain shake that has the potential to produce results quickly. In addition to giving you 580 extra calories, each shake also contains 5 grams of creatine monohydrate. This additional creatine will help you jumpstart your weight gain program as it's shown to help people put on 5-10 extra pounds by itself in less than a month. Getting a daily dose of creatine plus almost 600 extra calories from each shake makes Cytogainer a weight gain shake that should be able to help you gain weight and build muscle pretty fast especially when you combine drinking a shake a day with a solid diet and workout plan.
Key Benefits And Features
The easiest way to get 580 extra calories a day, or if you drink 1 shake a day 4,060 extra calories a week. Considering all of your nutritional needs are being met with the other foods you eat, these added calories can help you gain 1 pound a week, possibly more.
Helps you meet your protein needs with 54 grams from Whey protein.
At a cost of about $2.00 a shake it's an inexpensive way to get a high calorie and nutritious meal.
Complex carbohydrates provide sustained energy instead of being stored as fat.
Low in simple sugars (6 grams). This limits your risk that the weight you gain is fat.
Convenient. Mixes instantly in water. Add to a shaker and take with you to drink during your day.
No aspartame of other artificial sweeteners.
5 grams of creatine monohydrate per serving
Rated Excellent by Bodybuilding.com customers.
Cytogainer is available in 9 delicious flavors that provide plenty of variety to keep you from getting sick of drinking the same old flavors. If you choose to use Cytogainer as your weight gainer we recommend going with the 6 lb. can as it will save you more money per serving. One 6 pound can will last you about 2 and half weeks if you drink one shake a day. If for some reason you don't want to use a product with creatine, we recommend using one another high quality shake like BSN True Mass.
Click here to buy Cytogainer from Bodybuilding.com.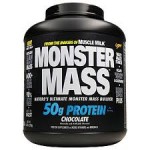 Cytosport Monster Mass
Monster Mass is a weight gain shake that's best used as an extra meal. This is because it contains a blend of proteins including casein and whey which are digested at different rates and therefore, provides your muscles with amino acids, carbohydrates, healthy fats, and other nutrients to your muscles over a period of several hours. This can help keep your body in an anabolic (muscle-building) state for several hours. Shakes with whey protein only are digested within an hour or less and aren't as likely to provide this benefit.
Every serving of Monster Mass has 630 calories. Drinking 1 serving a day can help you gain an additional 1 or more pounds every week as long as your meeting your daily caloric needs. With only 7 grams of sugar per serving you don't have to worry about packing on fat or suffering from energy swings after drinking a shake. Listed below are more key benefits and facts.
Key Benefits & Features
$43.99 per 18 serving can
Less expensive than buying a meal at only $2.44 per serving.
630 calories per shake
50 grams of protein per serving from muscle building casein and whey proteins.
67 grams of carbohydrates per shake with only 7 grams of sugar.
It's low sugar content means no energy crashes or bloated feeling after drinking a shake.
An extra 4 grams of leucine added – this is the amino acid that 'turns on' the muscle building process in your body.
Added digestive enzymes including clinically proven Aminogen help your body more easily digest and utilize every shake you drink. This means more nutrients get into your muscles and that you won't feel bloated.
Available flavors: Banana Cream, Cake Batter, Chocolate, Cookies & Cream, Strawberries & Cream, Vanilla.
Rated Excellent by Bodybuilding.com customers.
When Should You Drink Monster Mass?
The best time to drink Monster Mass is as a snack between meals or at bedtime to help your body stay in a muscle building state while you sleep. Since it's digested slowly, it's not the best pre and post-workout drink. You should instead drink a quickly digested shake like Cytogainer at these times.
Click here to buy Cytosport Monster Mass at Bodybuilding.com.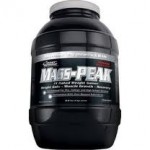 Inner Armour Mass-PEAK
This weight gain shake is, like the others on this list high in calories (X), protein (50 grams per serving), but low in sugar (9 grams). It also contains a blend of casein and whey proteins to give you a time-released source of amino acids and keep you in a muscle-building state. The carbohydrates in each shake are absorbed very quickly. This makes it great to drink post-workout for speeding up recovery.
Another thing I like about Mass-PEAK is that it's tested and guaranteed to be free of any banned substances. So, if you compete in an organization that tests for performance enhancing drugs you don't have to worry about accidently testing positive as has happened to athletes taking tainted supplements.
Key Benefits & Facts
$47.99 per 23 serving can.
Only $2.09 per shake. Much less than eating a meal with as many calories and as much protein.
670 calories per shake. Drinking 1 a day can help you gain at least 1 pound a week.
50 grams of protein per shake from casein and whey.
105 grams of quickly digested carbohydrates in every shake to help speed recovery post-workout.
Added digestive enzymes minimize the risk you'll feel bloated from the extra calories.
Tested to be free of all banned performance enhancing and potentially harmful substances.
Available flavors: Chocolate, Chocolate Peanut Butter, Cookies And Cream, Strawberry, Vanilla.
Rated Excellent by Bodybuilding.com customers.
When Should You Drink Mass PEAK?
The best times of the day to drink this weight gain shake are as an extra snack during the day and/or as your post-workout meal. You can drink a shake before bed too to help your body and muscles recover and grow while you sleep.
Click here to buy Inner Armour Mass PEAK at Bodybuilding.com.
All You Have To Do Now Is Decide
Now you know which weight gain shakes are the best to drink at different times of the day including pre and post-workout and before bed to help your body gain weight, build muscle, and recover faster. All you have to do now is decide which is best for your specific needs and keep training hard in the gym. You'll then be able to build the body you want, quicker than you thought possible. If you want to shop around for other types of weight gain shakes check out our articles which review the weight gain shakes with creatine and low sugar weight gain shakes. I also recommend reading my article How To Gain Weight Fast – 8 Tips That Show You How for more information on exactly how to gain muscle weight.