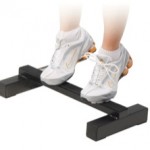 Power Systems' Calf Raiz is a great addition to your home gym. It's compact size (20" x 10" x 2") means it won't take up too much space. Its relatively light weight makes it portable. It's functional design makes it possible to train your calves heavy, hard, and often.
You perform both standing and seated calf raises with the Calf Raiz. While you may only consider using it for body weight calf exercises, its sturdy design and non-skid surface makes it good for doing weighted calf raises with dumbbells or kettlebells too. You can also use it to stretch your calves before and after your workout.
The Calf Raiz is available online at Power-Systems.com.