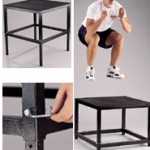 The Super-Safe Plyo Box is the most convenient plyometric box we've found. This is because it's adjustable. Simply moving its pins allows you to vary its height in 1" increments from 20" to 36". Instead of needing several plyo boxes that vary in height this piece of equipment gives them to you all in one.
Some of this plyometric box's other features include: a super sturdy design, a large 30" x 30", non-skid surface, and straight legs to keep you from hitting them and hurting yourself when jumping on and off. You also get a 5 year guarantee to protect your investment.
You can do much more than plyometric exercises with the Super Safe Adjustable Plyo box. Listed below are some of the exercises you can do to show you its versatility. You'll see how its a great choice, especially If your facility or home gym has limited space and can only fit one box.
Box Jumps
Depth Jumps
Lunges With Your Front Foot Elevated
Lunges With Your Back Leg Elevated
Push Ups With Your Feet On The Box
Step Ups