Question:
Hi. I need your expert help. I take a lot of supplements which, as you can imagine means I swallow a lot of pills every day. Most of the pills I take are BCAAs and creatine, which means I sometimes take more than a dozen a day. I'd like to take less. Do you know of a good product that combines both in a powder that mixes well?
Thanks,
Tony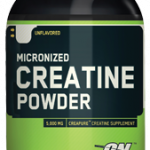 Answer:
Sure, there is a great BCAA creatine supplement in powder form. It's Optimum Instantized BCAA + Creatine Powder. Each serving gives you 5 grams each of branch chain amino acids and creatine monohydrate. This is a more than adequate dose of each but if you need to it's easy to take get more of these muscle-building nutrients by adding another scoop to water or your shake.
BCAA + Creatine Powder is also instantized which means it mixes easily and stays that way. Most creatine and BCAA powders clump easily and taste like sand going down. This one doesn't. You can buy it in Orange Blast and Unflavored flavors. If you want to learn more about this BCAA creatine supplement read our in-depth review.
You can buy Optimum Nutrition BCAA + Creatine Powder at Bodybuilding.com.