If you haven't tried a shake made from beef protein powder, you're missing out. The best shakes are made from USDA certified beef and have become a favorite of mine. They don't taste like steak either, which is nice. While I love the taste of steak and eat it several times a week, it doesn't appeal to me in liquid form.
I drank dozens of different beef protein shakes recently from several brands. This was part of my research to learn which one is the best. If I'm going to recommend a product to you, I want to do all that I can to make sure it's the best.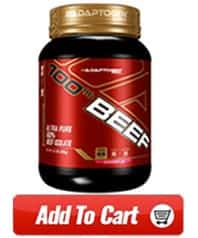 After digesting all of these shakes, I've decided that Adaptogen Science 100% Beef is the best protein powder made from red meat.
Here's a list of its key benefits. Each is explained in detail in this article.

It's made from 100% USDA certified red meat.
Every scoop has 26 grams of protein.
Only 2 grams of carbs and 0 grams of sugar per serving.
Lactose, gluten, and dairy free.
Perfect for almost every type of diet including: paleo, keto, carnivore, and low carb.
Doesn't leave you feeling bloated and gassy after drinking.
Tastes awesome and mixes instantly in water.

Click here to learn more or to buy Adaptogen Science 100% Beef protein shakes.
Keep reading to learn more about why it's the best beef protein powder and the best ways to add it to your diet.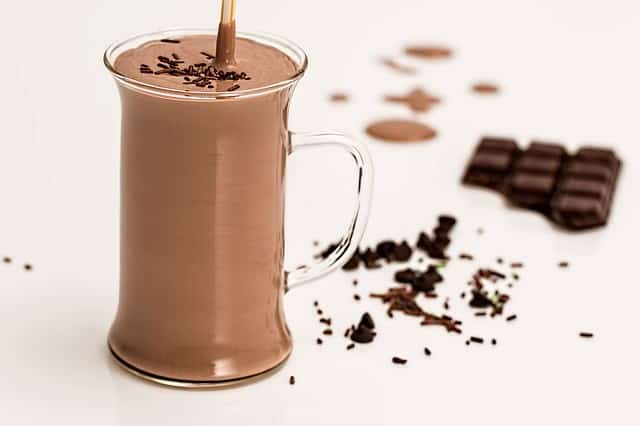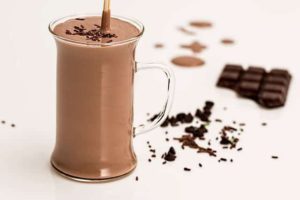 What Makes Adaptogen 100% Beef Protein The Best?
1. It's made from 100% USDA certified red meat.
This is what makes this supplement better than other beef protein powders. Every scoop of protein you mix up and drink comes from red meat. Nothing else. It's USDA certified too so you can trust what's in the container.
Lesser supplements use beef but it's not from meat. It's from tendons, ligaments, and others parts of the animal. You'll see this on the products label listed as collagen and hydrolyzed beef protein.
While it has its purpose in our body, collagen doesn't have all of the amino acids your body requires to be strong, lean, and healthy. This makes these shakes ineffective for building muscle and keeping you healthy.
2. Every serving has 26 grams of protein
Most protein powders have about 20 grams of protein in a single scoop. This is okay. This beef protein powder is even better with 26 per serving. This additional protein is a sign of a high quality protein that doesn't have any worthless ingredients that don't benefit your health or performance.
Any of those ingredients are removed, leaving with more protein per scoop than the highest quality whey, egg, and plant protein supplements. This also means there aren't any 'filler' ingredients added. I discuss what this means in the next section.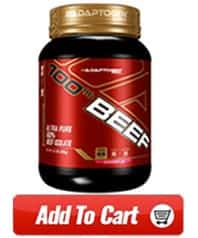 3. Adaptogen 100% Beef doesn't contain any 'filler ingredients'
Adding individual amino acids and sugar to protein powders is a common practice. These ingredients – called fillers – aren't added in large enough amounts to be of any benefit to you. They're only added to bump up the amount of protein per scoop and servings per container without adding much to the manufacturer's cost.
Make sure you look for these ingredients on the label of any protein powder you buy, whether it's made from red meat, whey, egg, or a plant based product. If you do see them, think twice before buying.
Commonly used filler ingredients to look out for are: creatine, glutamine, leucine, and maltodextrin.
4. It's great for most diets including: paleo, keto, carnivore, and low carb.
Since there are 0 grams of sugar, and only 2 grams of carbohydrates per serving, Adaptogen 100% Beef protein powder is perfect for all us of who follow a ketogenic or low carbohydrate diet.
It's also free of gluten and lactose making it great for all of you who eat Paleo or avoid these nutrients because of their negative effect on your health.
Unless you are a vegetarian, pescatarian, or vegan, this is a great shake.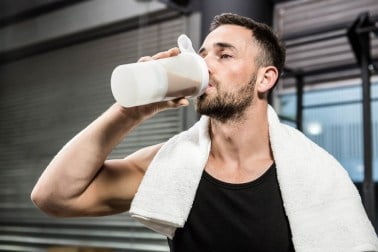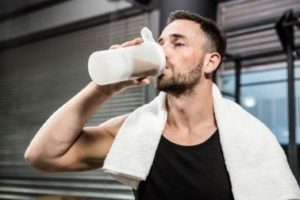 5. Adaptogen 100% Beef Protein Powder Is Delicious
I know, this goes without saying. But, unless you're able to sample it yourself, it's tough to know whether a product will taste good or not. One way is to read reviews from trusted sources, like us.
After sampling both the chocolate and strawberry flavors I can honestly say that they taste as good or better than any whey protein shake I've tried. I asked some friends and family to try them too. Everyone enjoyed both flavors with chocolate being the favorite.
All That's Left Is To Give It A Try
Now you know what makes this product the best not only among beef protein powders but other types of proteins as well. All that's left for you to do is give it a try and see for yourself.
Click here to buy Adaptogen 100% Beef Protein Powder.
---
Beef Protein Powder – Frequently Asked Questions
1. Who Should Drink Beef Protein Powders?
Unless you're a vegetarian or vegan, this is a supplement that's a great source of protein for you. It's great to use if your goal is to build muscle, lose fat, get stronger, or perform better in and out of the gym. It's great for guys and girls and everyone from those of us who train to stay healthy or compete as a professional athlete.
Beef protein powder is also great to drink if you have an intolerance to other types of protein. This is especially common with milk, soy, and egg based shakes. Unlike them, beef is hypoallergenic. This means it won't cause you to have an allergic reaction (i.e. runny nose, rash, congestion, upset stomach) after your drink your shake.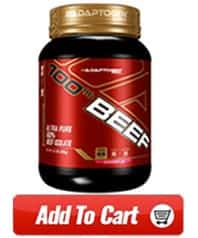 2. How Should I Incorporate Shakes Made From Beef Protein Powder Into My Diet?
The amount of protein powder you take is based upon your goals, body weight, and activity level among other factors. If you're a generally healthy girl or guy that lifts weights or does other intense workouts 3 or more times a week the research shows you should shoot for 1 gram of protein per pound of your desired body weight.
I personally aim to get as much of the 200 grams of protein per day that my body requires from real food. Since I'm on a ketogenic/low carb diet most of my protein intake is from fatty cuts of meat (ribeye, ground beef, pork shoulder, bacon, eggs). These foods often fill me up pretty fast, leaving my body 50 or so grams short of its requirements. Drinking a shake of X with 2 scoops gives me this extra protein in an easy to drink shake.
I like to add a teaspoon or tablespoon of MCT oil to my shakes too. This helps me stay in nutritional ketosis (burning fat) between meals.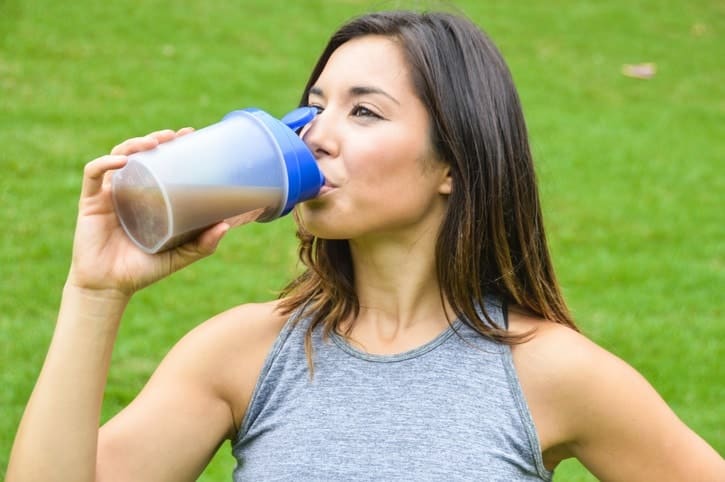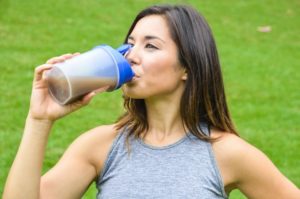 3. When Should I Drink My Shake?
You can drink your shake anytime you need a snack or quick meal.
I also like to drink a beef protein shake after a meal. This helps you get in some additional protein without needing to eat more food. This is especially helpful if you are often too full to eat but know your body can benefit from more protein.
This is also a great protein powder to drink post-workout if you like to give your body extra protein after you're done training.
4. What's The Best Way To Make These Shakes?
You can make a shake with beef protein powder the same way you do any other. If your main goal is to add some extra protein to your diet, add 1-2 scoops of powder to 8-12 ounces of water, mix, and drink up.
If your looking for more of a meal replacement, I recommend adding a tablespoon or two of a healthy fat to your shake.
Great choices include

Coconut milk
Almond butter