If you're reading this article it's likely that for some reason you can't or won't dairy based protein shakes like whey and casein. Even if you can, it doesn't mean you need to drink them exclusively.
Advances in the manufacturing of nutritional supplements have enabled the introduction of dairy free protein powders that taste great, are an awesome source of protein, and don't make you feel bloated and gassy.
The only real problem now is which specific product to try. There are hundreds if not more, dairy free protein powders available to you, all of which claim to be the best.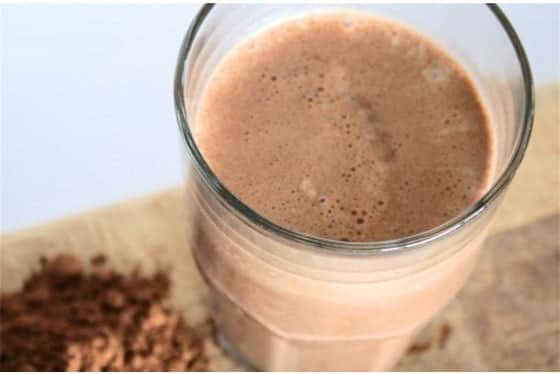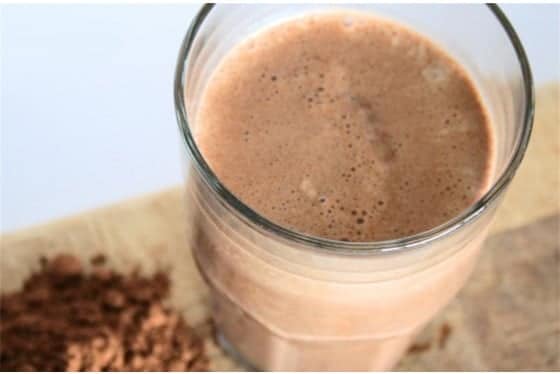 This article is all you really need to find the best dairy free protein powder for your needs.
We've done the research and product testing for you. All you need to do is take a few minutes to read this article and select the dairy free protein that's best for your goals and needs.
Whether you want to make sure you're getting enough protein daily, want to build muscle and get stronger, or improve your health, there's a milk free protein powder for you in this article.

Choosing The Best Non Dairy Protein Powders
As I do for all of our buyer's guides, I first research for and review the ingredients of the top supplements in a specific category. After reviewing the ingredients, research, etc. for these products I choose the best 12-15 for further testing. My final tests lead me to choose 3 non dairy protein powders as the best of their category.


The criteria I uses to choose the best products dairy free protein powders

No dairy allowed – i.e. whey, casein, or milk proteins.
Every serving must have at least 23 grams of protein.
No inferior proteins allowed – i.e. soy.
No protein spiking – adding individual amino acids to boost the supplements protein content.
The shakes must taste great.



There are three dairy free protein powders that we've found to be the best. The reason for choosing 3 products instead of just 1 is that each uses a different source of protein. This makes it possible for us to have a product in this article for everyone who for one reason or another, doesn't drink whey or casein protein shakes.

Each protein powders review gives you it's main ingredients, how taking this product can benefit you, taste profile, cost per serving, and much more.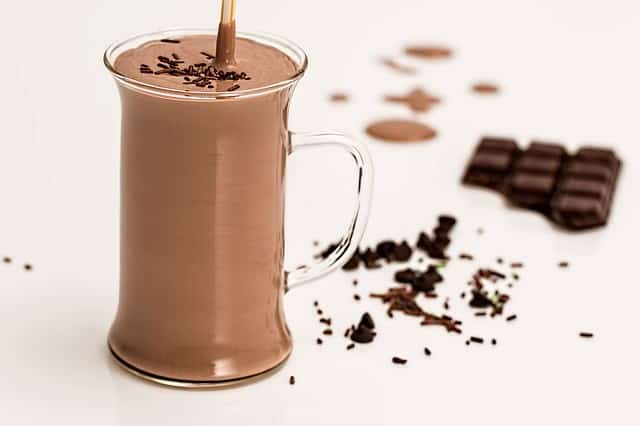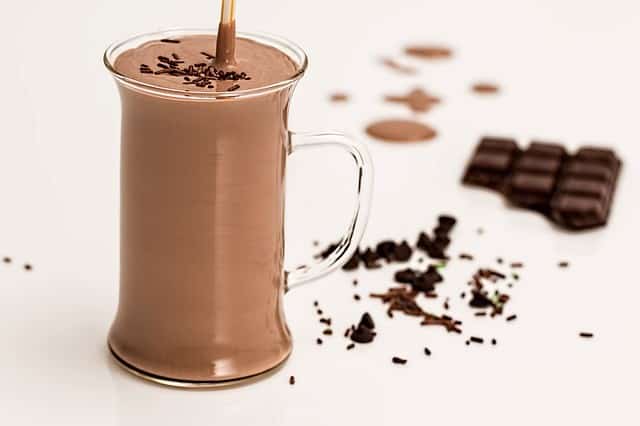 The 3 Best Non Dairy Protein Powders
Adaptogen Science 100% Beef – Protein Powder Made From Red Meat
Our first choice for the best non dairy protein powders, is made from nature's muscle builder – beef. Yes, you read correctly this protein powder is made from USDA certified red meat.
I wish this stuff was available when I was a skinny kid, drinking crappy milk protein shakes in a desperate attempt to gain muscle and get stronger. Instead of being gassy, bloated, and still skinny I would've actually gained muscle, gotten stronger, and felt great.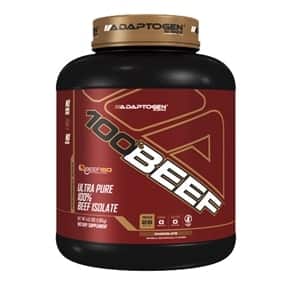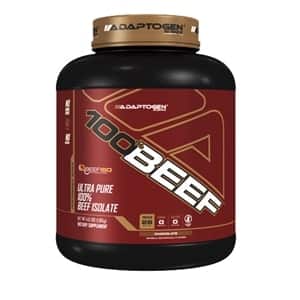 Unlike many beef protein powders, Adaptogen 100% Beef protein powder is made from the red meat we grill up and eat. Many competing products are made up of beef collagen and other parts of the cow that do not contain all of the amino acids your body and muscles need to recover and grow stronger.

Another great benefit you get from drinking this beef protein powder is that it's not 'spiked' with amino acids and creatine as filler. Other supplement companies add these ingredients to artificially increase the amount of protein listed on the products label. Every shake you make from Adaptogen's beef protein powder gives the same muscle building, fat burning amino acids you get from a big, fat steak.


Here's What You Get From Every Serving Of 100% Beef Protein Powder

25 grams of protein – as much as the best whey proteins on the market!
2 grams of carbohydrates & 0 grams of sugar.
2 grams of fat from energy boosting and fat burning medium chain triglycerides (MCTs).
130 calories per serving
27 servings in every canister – X more than the average protein powder.



Just as important is what you don't get from this shake. All of the available flavors are gluten, soy, and lactose free.

How Does It Adaptogen 100% Beef Protein Powder Taste?
Don't worry, this protein shake does not taste like you're drinking down a roast beef shake. It's actually one of the tastier protein powders I've tasted in quite a while and definitely the best tasting of all of the shakes we sell. The only products that I think taste better are those that are loaded with added sugar. Unfortunately, these shakes are no bueno for our strength, health, and size of our belly.

The chocolate flavor tastes like a rich, creamy chocolate shake. There's no nasty aftertaste or chalky residue left after drinking it either, which is always nice. It's also available in strawberry flavor which I like a lot too. It tastes as advertised, with a sweet, tart berry flavor that is a nice alternative to chocolate and vanilla shakes we usually drink.

Both flavors mix instantly in water using a shaker bottle, spoon, or blender. I mix mine with 8-12 ounces of water, depending on how thick and creamy I want my shake to be. I like to add a tablespoon of MCT oil to my shakes. This makes them taste better, helps my body stay in a fat burning state, and keeps me feeling full longer between meals.

Who Is This Shake For?



All of us guy and girls that eat and train to get stronger, look better, and be healthy.
Fits in with most any diet including keto, low carb, and Paleo.
Anyone that avoids or limits the amount of gluten in their diet.




Learn more about Adaptogen 100% Beef Isolate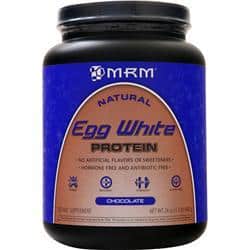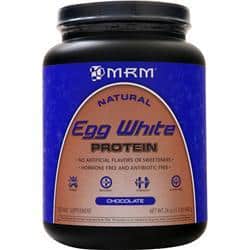 MRM Egg White Protein Powder – Mother Nature's Perfect Protein
This protein powder is made from another awesome, dairy free source, the incredible, edible egg. As you may know, eggs are considered on the most complete sources of amino acids and protein that you can get. Every serving of MRM Egg Protein Powder contains these amino acids in the same amounts that you get when you eat a plate of cooked eggs.


Here's What You Get From Every Serving

23 grams of protein from egg whites.
0 grams of fat
0 grams of sugar and only 2 grams of carbohydrates
Added digestive enzymes (Digest All) to help your body easily digest and absorb as much protein as possible.
Chocolate and vanilla flavors.
Sweetened with Stevia, an all natural sweetener. No aspartame or sucralose used.
10 servings per container.



Additionally, every shake you make from MRM Egg White Protein Powder is lactose and gluten, and cholesterol free. It's also free of hormones and artificial flavors.

How Does MRM Egg White Protein Powder Taste?
Since it's on this best non dairy protein powders list you can be assured that it tastes really good. It's actually the best tasting egg protein powder I've tried and over the years I've tried them all. Most are chalky and funky tasting shakes that leave me bloated and gassy. This shake tastes as advertised.

and tastes really good, as good as a whey protein shake and much better than any other egg protein I've tried, and I've tried them all. The others I've tested for this article and otherwise typically have a chalky taste and mouthfeel. This one tastes as advertised.

Like I do with other protein shakes, I like to add a spoon of MCT oil to these shakes. These added fats keep my body using fat for its fuel and help me stay full longer between meals.

Who Should Drink This Shake?


Great for most every diet including keto, low carb, and Paleo.
Even great for ovo-vegetarians (vegetarians that eat eggs too).
Anyone that wants an easy to make and eat source of all the amino acids your body needs to grow, recover, and stay healthy and strong.
If you don't eating any animal based proteins.



Click here to learn more and buy MRM Egg White Protein Powder.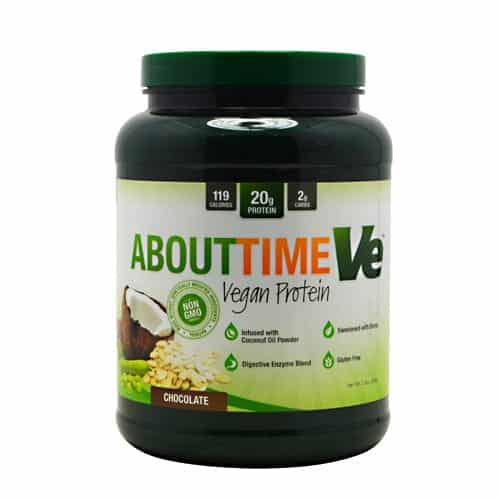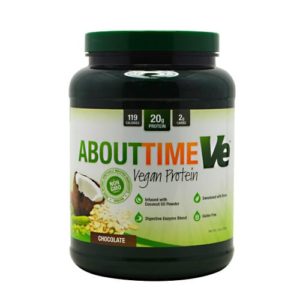 About Time VE Vegan Protein Powder
This shake is not only dairy free but also doesn't contain protein from any animal sources like beef or eggs. Nope, all you get in this shake are amino acids and protein from vegetarian sources.
More specifically, every scoop gives your body the protein and amino acids it needs from pea, pumpkin, and brown rice. Believe it or not, these foods, most none as a source of carbohydrates and fiber also contain protein. When combined, they give your body all of the amino acids it needs to stay strong and healthy. About Time Vegan Protein Powder does this without containing any extra carbohydrates or sugar.

What You Get From Every Serving
22 grams of protein from pea, pumpkin, and brown rice proteins. 100% soy free.
Only 1 gram of carbohydrates and 0 grams of sugar
Great for vegan, low carb, Paleo, and keto dieters
2 grams of fat from healthy coconut oil – rich in MCTs
Over 4 grams of muscle building branch chain amino acids (BCAAs)

How Does It Taste?
To be honest, I normally avoid plant based protein powders altogether. The primary reason is that most of them taste awful. There are very few that I've tried that taste good. This one is the best. Both chocolate and vanilla flavors taste just as advertised, The added coconut oil helps these shakes mix up rich and creamy.
Since trying this product the first time, I've added it to my protein shake rotation which typically consists of the Adaptogen Beef Protein I review in this article and Quest whey/casein protein powder.
Whether you're a strict vegan or eat all types of proteins like me, you'll find that this product tastes great and keeps you full, especially when you add a little extra fat from MCTs or almond butter.
Click here to learn more about About Time VE – Vegan Protein Powder.

Conclusion – The Best Dairy Free Protein Powders
Now you know the 3 best non dairy protein powders. Each is great for building muscle and improving your health. All you need to do now is decide which one to try first.