The pharmaceutical industry jumped on the fish oil bandwagon a few years ago with the introduction of Lovaza, a concentrated source of omega 3 fatty acids. It's marketed as being the purest and better source of EPA and DHA, the fats that give fish oil its benefits. Recently published research finds that this may not be altogether true.
A study published in the European Journal of Clinical Nutrition measured the omega 3 index – how much EPA and DHA is in your red blood cells – of subjects taking either prescription or over
the counter fish oil. The people in the study took approximately 1 gram of EPA and DHA daily from either supplement daily for 6 months. Blood tests were performed at the beginning and end of the study.
Results from these blood tests show that the over the counter fish oil supplement increased the level of omega 3 fats in their blood more than the pharmaceutical product. While the amount of increase wasn't statistically significant it does show that non-prescription fish oil can produce the desired effect. Another benefit of over the counter fish oil supplements is that unless you have a prescription plan they're much less expensive.
If you decide to use an over the counter fish oil supplement there are a few things to keep in mind. First, make sure you buy a supplement that's tested by a third party to be free of impurities (heavy metals, pesticides, etc.). Second, the product you buy should have 1 gram (1000 mg) of EPA and DHA per capsule. You can determine this by reading the amounts listed on the products Supplement Facts panel.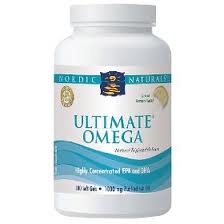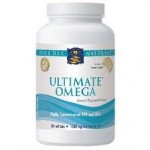 Before you buy a supplement I also recommend reading our review of Nordic Naturals Ultimate Omega fish oil capsules. Each 2 capsule serving is packed with more than 1000 mg (1 g) of EPA and DHA so you don't have to take a handful to get your daily dose. You can feel safe taking it too. Third party tests show it's free of impurities and that each capsule has the amount of EPA and DHA listed on the label.
Shop for the lowest prices on Nordic Naturals Ultimate Omega.