In my opinion, the first piece of fitness equipment you should buy is a kettlebell. Owning one enables you to get in a great strength and cardio workout that is as good if not better than anything you'll do at the gym. One study shows that a 15 minute kettlebell workout can burn as much as 300 calories. It would take an hour to burn this many calories doing regular weight lifting exercises.
Another great thing about kettlebells is their versatility. With just this one piece of equipment you can perform hundreds of exercises, from squats and presses to rows and kettlebell swings. This article teaches what to look for when you're buying a kettlebell to ensure you get the best product for your needs. Use them as a shopping guide whether you are going to buy your kettlebell on or offline and you'll get one that's the right weight and the highest quality.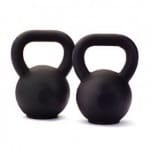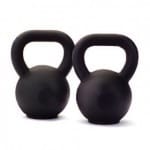 Tips For Buying A Kettlebell
1. The kettlebell you buy should be made from cast iron. This will ensure it will stand up to the toughest possible workouts including kettlebell throws.
2. It's handle should be smooth and also made from solid steel. The reason you want a smooth handle is that it will be more comfortable to perform kettlebell cleans, swings, and other movements where the 'bell will be flipped with your wrist.
3. The kettlebell handle should be welded, not bolted onto the bell section of the weight. This ensures that it will be able to withstand years of use without coming loose or breaking apart.
4. Buy a brand of kettlebell that makes all of its weights in the same size. This makes it easier to perform the same exercises without having to adjust your technique as you get stronger.
5. When choosing a weight, the first kettlebell you buy should be one that you can perform 8 swings or squats with using good form. Generally speaking women are usually able to start out with a 15-20 lb. and men a 35 lb. kettlebell. If you can, try one out at a sporting goods store or your gym to get the right weight.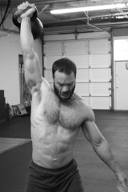 Where To Buy Your Kettlebell
You can purchase kettlebells online and at brick and mortar sporting good stores. They've become so popular that they're now sold everywhere from Amazon.com and eBay to specialty retailers like PerformBetter.com.
My favorites are First Place kettlebells which are sold exclusively at PerformBetter.com. They have 2 types, a cast iron kettlebell that are more affordable and a competition line that are slightly more expensive. The competition kettlebells are all the same diameter, have smoother handles making them easier to swing and are painted different colors based on their weights. Either is a great choice and both come in 18 different weights that range from 4 – 44 kgs (9-97 lbs).
You now have all the information you need to help you buy the best kettlebell for your needs. Be forewarned, once you start training with them you won't stop at one. Before you know it you will own several pair.