Buying fitness equipment for building muscle, burning fat, and getting stronger is often confusing and difficult. With so many options it's tough to determine what actually works and is best for your individual needs. This article series solves the problem. In it we are asking several leading personal trainers and strength coaches the question: "If you could recommend only 1 piece of fitness equipment to a client for building muscle and burning fat which would it be and why?"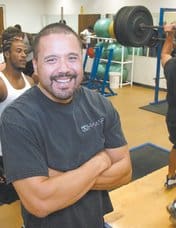 Today's expert answer is from Robert dos Remedios, MA, CSCS, CSSS. Robert is the Head Strength & Conditioning Coach at The College of the Canyons in Santa Clarita, CA and a sought after speaker and presenter on conditioning. In addition to contributing to Men's Health on a regular basis, Coach Dos' has authored 2 books: Men's Health Power Training and Men's Health Cardio Strength Training. You can learn more about coach Dos at CoachDos.com.
Coach Dos' Answer:
Gotta say the TRX Suspension Trainer. Why? Well, it not only enables you to LOAD movements in virtually every movement pattern from Horizontal pulling/pushing to Hip dominant to core but it ALSO allows you to UNLOAD which is critical with many populations. The TRX is also extremely versatile with core movements and multi-planar movements.
Last, from a fat burning standpoint the TRX is great for metabolic circuits since you can move from one movement to another with little to no adjustments to the equipment. Simply put, the TRX is can be a HUGE tool in your training toolbox simply due to its versatility and effectiveness.
Read Stayfitcentral's review of the TRX Suspension Trainer.