Will taking MCT oil help you lose belly fat? According to the results of a study I just read the answer is, yes. The amount you can help you lose is significant. Especially considering MCT oil's convenience, safety, and modest cost.
In this article I'll show you how to apply the methods used in this research so you can lose excess belly fat faster than dieting and exercise alone. You'll also learn a few tips and tricks I've picked up over the years to get additional benefits from this high octane oil.
I do want to give one caveat before getting into the details. It's that no supplement, diet, or workout plan is a magic pill for instant fat loss. You need to work on all 3 factors, and others like sleep and stress management to see significant results that last.
Research Review – MCT Oil Can Help You Lose Belly Fat
In this study, a group of 49 overweight men and women between 19-50 years old were divided into 2 groups.
The first supplemented their diet with 1.5 tablespoons a day of olive oil.
The other took the same amount of MCT oil every day.
Either type of oil was added to muffins to help mask the taste and make getting the extra fat into the subjects diet easy. Everyone ate 1 a day.
To help with their weight loss efforts all of the people in the study received weekly weight loss counseling. During these weekly sessions they were shown how to follow a reduced calorie weight loss diet (1800 calories/day for men and 1500 calories/day for the ladies).
After 16 weeks the scientists conducting the study declared a winner. Well, not really but they could have.
What they did conclude is that MCT is more effective for losing body fat, especially around your stomach.
Check out these results and see for yourself
The MCT oil group lost 5 pounds of excess body fat. Those getting olive oil only lost 1.5.
The men and ladies taking MCT oil also lost 3 times more belly fat. Here they lost 3 lbs and the olive oil group was only able to lose less than 1 pound.
As you can see, the men and women supplementing with MCT oil lost more than 3 times the amount of fat than the group taking olive oil. The fat around their belly, decreased by the same amount too.
This weight loss happened simply by adding about 1.5 tablespoons of MCT oil to their diets every day. Sure, their diet had something to do with fat loss too. That's why the olive oil group lost any weight. They were eating less calories.
Given the statistical significance of the fat lost in the MCT group, it was definitely due to adding this fat to their food.
Keep reading to learn how MCT oil works to get rid of excess belly fat.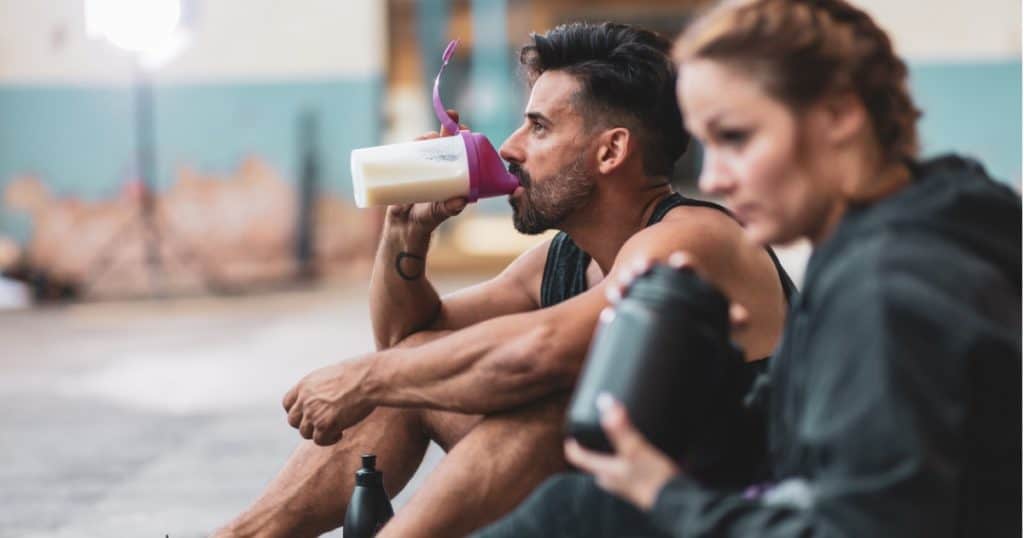 How Does MCT Oil Help You Lose Belly Fat?
Unfortunately, the researchers leading this study did not perform any experiments to learn how the MCT oil helped these guys and ladies lose more fat.
Results from other studies using similar amounts of MCT oil find that it helps you lose excess belly fat by increasing the amount of it your body is able to burn off throughout the day. Without doing any additional exercise or restricting calories.
Another way it can help is by decreasing your appetite. This is one of my favorite things about it. Within 45 minutes to 1 hour after taking a tablespoon, my hunger pains are gone and don't come back.
This is especially helpful when I'm fasting between meals. Using MCT oil in this way is often referred to as fat fasting and is popular for its ability to decrease hunger and keep your energy up.
Additional research needs to be done to learn more about how MCT oil can help you lose belly fat. I'll detail any new research on this blog as it becomes available.
Is MCT Oil Safe To Take?
Research finds that taking MCT oil doesn't have a negative effect on your cholesterol, liver and kidney function, blood pressure, etc. Many of these values can actually improve when you take it correctly.
There is one thing to be careful with. Taking too much MCT oil if you aren't used to it can cause an upset stomach. It may also trigger some pretty explosive diarrhea.
Don't worry, these things are easy to avoid. Start off with a small amount. Say ½ to 1 teaspoon. Slowly increase the amount you're taking over 7-10 days. By then, your body will have adjusted to the extra MCTs in your diet and be able to handle it no problem.
How Should You Take MCT Oil?
I find that taking my MCT with food prevents getting an upset stomach. Taking it with a meal may also help keep my blood sugar from rising too much, which keeps my energy levels high and may help me lose a little more belly fat too.
I usually do this by adding to my daily whey protein shake or adding it to guacamole. Since it's flavorless, you can also drizzle it over your food as well as cook and bake with it up to about 375 degrees.
Once your body is used to it, which typically takes a few days to a week, you can take it on an empty stomach. Just be careful. If you haven't taken it before, start with a smaller dose and increase the amount over time.
This is an effective way to take MCTs to help you get through a tough patch during a fast.
Which MCT Oil Supplement Is The Best?
MCT Edge is the oil that I take every day. It's our own brand so I may be a little biased when I say it's the best.
Here's why I like it so much when compared to other products.
It's harvested from sustainably sourced crops.
Every serving contains nothing but 100% pure, pharmaceutical grade MCT Oil.
MCT Edge is made in a GMP certified facility. This guarantees that all you get is what's on the label.
A single bottle lasts at least a month.
It comes in a recyclable glass bottle.
Conclusion
Now you know how to use MCT oil to help you lose excess belly fat. Remember, while it's effective, this and any other supplement is not a magic pill. You still need to diet correctly and exercise regularly if you want to lose fat, get leaner, and stay that way.
Sources
St-Onge MP, Ross R, Parsons WD, Jones PJ. Medium-chain triglycerides increase energy expenditure and decrease adiposity in overweight men. Obes Res. 2003 Mar;11(3):395-402.