Here's a high protein meal for all of you seafood lovers. Even if you don't typically like seafood and are partial to steak, I think you'll like this recipe. That's because it uses tuna which when prepared this way has a steak like flavor and texture. The tuna steak is marinated for several hours in soy sauce, lime juice and several other ingredients. The result is a delicious, high protein meal that combines every flavor from sweet, sour, spicy, and savory to deliver a meal that you'll want to prepare every week.
Recipe (Makes 2-3 Servings)
Ingredients:
1 lb. tuna steak (I prefer albacore but ahi or yellowtail are great too)
2 cloves of garlic
1 habanero pepper
¼ cup of cilantro
1" piece of ginger
1 lime, juiced
½ cup of soy sauce
1-2 tablespoons of sesame oil
1 tablespoon coconut oil
Directions
Preparing The Marinade & Marinating The Tuna
1. Prepare your ingredients by individually chopping the cilantro, garlic, and habanero pepper. Peel the piece of ginger and smash with the flat side of your knife.
2. Pour the lime juice, sesame oil and soy sauce into a medium size mixing bowl.
3. Add the other ingredients that you prepared in step 1 to the liquid mixture.
4. Mix all of the ingredients together with a whisk for 30-60 seconds or until all of the ingredients are combined.
5. Pour the marinade into a shallow bowl or container.
6. Add the tuna to the container. The marinade should cover the majority of the tuna. If it doesn't spoon some of the marinade over the top of the tuna.
7. Seal the container with its lid or plastic wrap.
8. Place the container in the refrigerator for 2-3 hours. Turn the tuna over in the marinade every hour.
Cooking The Tuna
1. Heat a grill or saute pan over your range over medium heat. Heat until the pan is hot but not smoking.
2. Add 1 tablespoon of coconut oil to the pan. The oil should melt quickly and sizzle but not smoke.
3. Once the oil has melted, add the tuna to the pan.
4. Cook the tuna on both sides for 3-5 minutes for a medium-rare doneness.
5. Add an extra 1-2 minutes on each side for if you like your tuna medium to medium well done.
6. Remove the tuna from the pan and place on a cutting board to cool. Let it rest for 3-5 minutes before plating.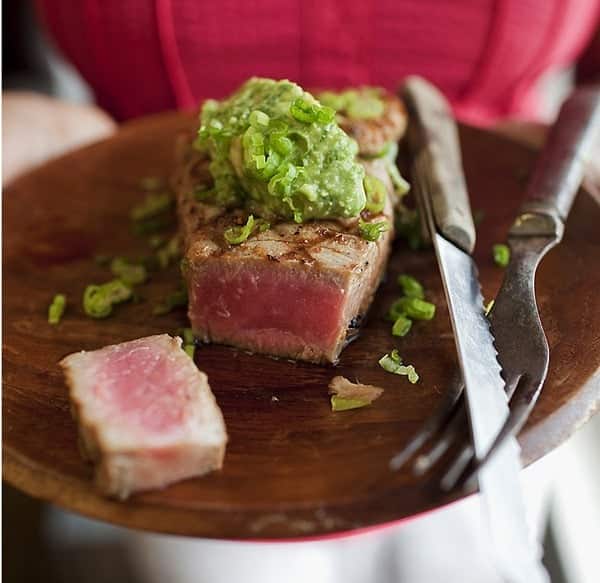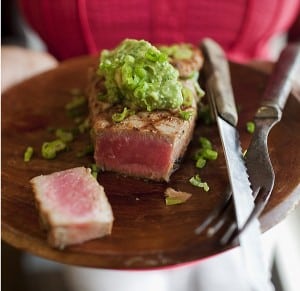 Plating The Tuna
Cut the tuna in half and serve each on an individual plate. I like to serve it with homemade guacamole. It's butter, rich flavor cuts through the savory soy and sesame oil flavors of the tuna perfectly. You can also serve roasted asparagus or green beans with it too.
Nutrition Information: (8 ounce serving)
Calories: 260
Calories From Fat: 180
Carbohydrates: 0 grams
Fat: 20 grams
Protein: 56 grams