Today I'm sharing one of my favorite recipes. It's a high protein meal with an Argentinian flavor; grilled cod topped with Chimichurri sauce. In case you're not familiar, Chimichurri sauce is a popular condiment in Argentinian and Uruguayan cuisine, much like ketchup and steak sauce are in American. while there are hundreds of variations of this recipe it's typically made from a combination of flat leaf parsley, garlic, olive oil, and lemon juice. You can use it as a dip for vegetables, to marinate meat, and as a condiment like I do in this recipe. Its sweet, sour, savory, and spicy flavor pairs perfectly with the mild flavor and flaky texture of the grilled cod.
Each serving of this high protein meal has 47 grams of protein, 28 grams of healthy fats from olive oil, and 0 grams of carbohydrates. Whether you follow a low carbohydrate, Paleo, or other type of diet this meal provides a healthy, muscle building nutritional punch.
The recipe below makes enough for 2-3 servings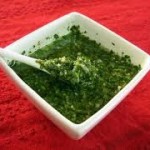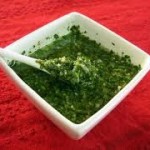 Ingredients:
For The Chimichurri Sauce
1/2 cup Italian flat leaf parsley
¼ cup cilantro
1 clove of garlic
¼ scallion
¼ cup fresh squeezed lemon juice
⅓ cup extra virgin olive oil
1 teaspoon Kosher or Sea salt
1 teaspoon black pepper
1 teaspoon crushed red pepper
For The Cod
1 lb. cod skinned and de-boned (you can also use Tilapia, Halibut or Sea Bass)
2 tablespoons of extra virgin olive oil
1 teaspoon Kosher or Sea salt
½ teaspoon black pepper
Directions:
Make The Chimichurri Sauce
1. Combine the lemon juice and olive oil into a medium size mixing bowl. Whisk together until their completely combined.
2. Chop the garlic and scallion into a fine dice.
3. Add the garlic, scallion, crushed red pepper, salt, and black pepper to the olive oil-lemon mixture.
4. Chop the cilantro and parsley into a fine dice. Add both to the mixing bowl.
5. Whisk all of the ingredients together until they're completely combined.
6. Set aside to rest for 30 minutes.
Grill The Cod:
1. Heat your grill or grill pan to medium-medium high heat.
2. Brush the cod with a light coating of olive oil. Sprinkle black pepper and salt over both sides of the fish.
3. Place the cod on the grill or into your grill pan.
4. Grill the cod for about 5 minutes and flip onto its other side.
5. Continue grilling it for another 2-3 minutes.
The cod is done when it begins to flake apart and is white throughout. It should still be tender. Do not overcook as this will make the cod dry and tasteless.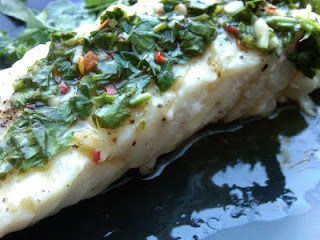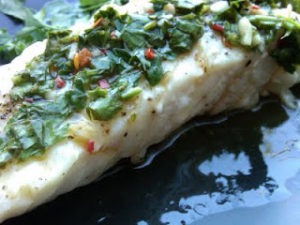 Serving This Dish
Place each cod filet on a separate plate. Spoon 2-3 tablespoons of Chimichurri sauce over the fish. Serve with grilled or roasted asparagus. It also pairs well with sauteed zucchini, roasted green beans, or an arugula salad.
Nutritional Information (1 serving)
Calories: 528
Calories From Fat: 252
Carbohydrates: 0 grams
Fat: 28 grams
Protein: 47 grams
Now you have a high protein meal that is easy to make and a lot different from the usual bland fish with a slice of lemon on the side. One final tip. When you make the Chimichurri sauce I recommend doubling the recipe. It tastes so good you'll find yourself adding it to everything you eat.