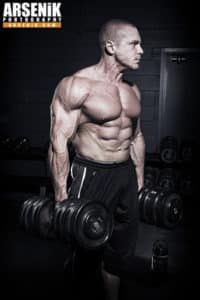 We recently sat down for an interview with Marc Lobliner. Marc is the the President of SciVation Primaforce, and PGN, three sports supplements companies. He's also a competitive bodybuilder. In this interview we talk about SciVations products, how he uses them to build a better body, and how you can use them for better results. We think you'll find the interview interesting and informative and after reading it will be armed with additional knowledge to apply to your own training, nutrition, and supplement routines.
Stayfitcentral.com (SFC): Hi Marc. Thanks for agreeing to speak with us. To get things started could you please give us a little bit of information about yourself and experience in the sports nutrition industry and bodybuilding?
Marc Lobliner (ML): Prior to Scivation, I was blessed with many opportunities. During college, I worked my way up to Personal Training Coordinator for Bally Total Fitness and soon got recruited to work my dream job, the place that started it all – Weider Publications! I spent 5 years at Weider Publications in charge of Endemic Business Development and as a Senior Account Manager. I worked with the man himself, Joe Weider!
I acted as a marketing consultant to small, medium and large companies to help grow their business which would in turn lead to a natural growth in their advertising budgets. I loved this job immensely.
I reluctantly left Weider for a position as a founding member of INSTONE. I felt it was time for my career to progress and that I had topped out at Weider. Long story short – it didn't work out. I was about to leave the industry to go back into publishing for a mainstream company, but decided to stay around as a marketing consultant. From there, SciVation was created and Primaforce soon followed.
My educational background is in marketing and marketing communications and I am a former competitive powerlifter. I now train as a bodybuilder and for general health.
SFC: How did you come to start Scivation?
ML: Upon parting ways with INSTONE (where are THEY now???? HAHAHA!!!), I decided it was time to take a risk. I went over it with my wife and since we did not have kids, we decided that I can always go back to selling ads and marketing programs. I took the plunge and I am living my dream and helping people reach their health and physique goals.
We are a company that practices what we preach. We train, diet and some of us compete just like our consumers. We know firsthand what it takes to get results as it is our lifestyle. We aren't just some company with sponsored athletes and fat guys in polo shirts, we USE our supplements and rely on them to help us achieve our best condition and health possible.
I see SciVation leading the way in workout nutrition. That means nutrition taken during and around training as well as supplements to further enhance diet, such as Dialene 4x, Essential FA and the best meal ever created, Solution 5.
SFC: Do you have a favorite Scivation supplement? Do you use supplements from any other company?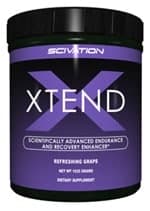 ML: Xtend will ALWAYS be my favorite. I also cannot train without the hardest hitting, lean mass producing and fat melting pre workout supplement ever created, Quake 10.0. I sleep like a baby with Knockout and LOVE Primaforce Yohimbine HCl stacked with Dialene 4x pre cardio. Essential EFA is the perfect fatty acid supplement and I feel amazing on it! SciVation Whey has amazing taste and quality and my favorite FOOD is Solution 5, the perfect meal.
As for other companies, I don't bother. When you have the best, why use the rest??
SFC: Great. What led to developing Xtend? Why use only amino acids and not complete
proteins or carbohydrates like most other pre and post-workout supplements?
ML: The metabolic effects seen from ingesting free-form amino acids are different from ingesting the same amino acids when they are a whole protein (peptide bond). The rapid flushing of the system with the individual amino acids exerts a much more powerful activation of its target pathways. Ingesting 10 grams of BCAA will lead to greater activation of mTOR, PI3K, etc. than ingesting 10 grams of BCAA from a whole protein. Thus, what happens is that you get better recovery and by getting it in there fast in an unbound form, it elicits all of the brilliant effects of the aminos—fat loss, lean mass gain and RECOVERY! A study published using Xtend finds that experienced (trained) subjects gained 9lbs of lean mass gain and lost 4.5lbs of fat in 8 weeks while following a controlled training program and diet. Xtend is ALL you need during training. It replenishes glutamine and BCAA which are depleted from training, Citrulline Malate helps deliver the nutrients to the muscles and also works by itself to give you better pumps in addition to boosting endurance and recovery.
SFC: Wow. That's a powerful supplement that everyone should know about. Are there any new Scivation products/products in development that you're really excited about?
ML: HECK YES! The Faultline Fruit Punch flavor Quake 10.0 is here, we also have a study on a groundbreaking AMAZING postworkout supplement that's under review now, and look for new Solution 5 flavors soon! We also have a NEW Xtend study that's going on now with subjects on diets, or in a HYPOcaloric state.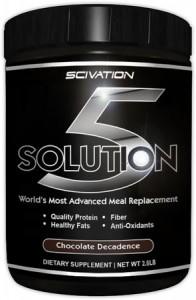 SFC: Speaking of Solution 5, how did you come to develop it an get it to taste so good? It's the first protein-rich whole foods meal replacement I've ever tried.
ML: While competing and traveling (I travel 90% of my life), I couldn't drink any of the MRP's, or CRAP on the market. I needed a PERFECT meal to compete at the Arnold Classic as did my colleague and Scivation VP, Rob Moran. We set out to create the perfect MEAL with no high fructose corn syrup, maltodextrin, fructose, corn syrup solids, or added sugar. We wanted high fruits and veggie equivalents. We wanted healthy fiber and essential fats. We wanted digestive enzymes since we are both lactose intolerant. We wanted the highest biological value protein. Chuck Rudolph, MEd, RD and Derek Charlebois AKA Da Guru went to work and BAM, the perfect meal was created, Solution 5!
SFC: I read on simplyshredded.com that you used Solution 5 as major part of your pre-contest diet. How long did you do this and how did it work out?
ML: I ate it for six out of seven meals when prepping for the Arnold Amateur and got AMAZING results. I now have it for four of my six daily meals usually and I am bigger and leaner than ever. It is AMAZING! Solution 5 is the REAL DEAL!
SFC: If people had to choose 1 Scivation product to help them build muscle which would you recommend?'
ML: Xtend. You need it! It is scientifically proven to build muscle and burn fat.
SFC: Have you found any Scivation supplement 'stacks' that work well building muscle and/or cutting body fat?
ML: They all work tremendously well together. I would use all Scivation supplements year round for amazing results, but if picking and choosing for optimal budgeting….
THE BASE for Year Round Use:
As a SLEEP AND RECOVERY Bonus
Joint Health Stack (Added to THE BASE)
Fat Loss Stack (Add to THE BASE)
Thanks very much for your time Marc. I think our readers will now have a better understanding of what goes into creating SciVation supplements and how they can get the most from them too.
If you want to learn more about some of SciVation's supplements you should read our reviews of Scivation Solution 5 and Xtend.
You can also get free samples of SciVation supplements like Quake 10.0 and Solution 5 at this link.