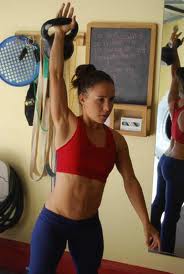 Attention ladies! If you're looking for workout to give you the body of your dreams, look no further. This kettlebell workout is designed just for women. Whether you're just starting to workout or have been training for years you'll find this work out helps you get results fast. It's faster than hours of cardio or countless sets and reps with barbells, dumbbells, and machines. After just a couple of workouts that less than 30 minutes you'll find your legs, butt, abs, and upper body are being transformed. You'll also notice you are shedding fat, losing inches, and developing a leaner, healthier quicker than a typical weight training or cardio workout.
Kettlebell Workout For Women – The Basics
I recommend doing this workout 3 times a week with a one day of rest between workouts. A common way to do this is to exercise every Monday, Wednesday, and Friday. You can rest or do another type of workout on the other days of the week.
You'll perform a slightly different workout on each day. This ensures that you train every muscle group equally. The variety you get from working out this way helps to make every kettlebell session more fun too.
Kettlebell Workout For Women – Required Equipment
The only equipment you need to do this workout is a kettlebell. All of the exercises use either a kettlebell or your own bodyweight. You can do these workouts in a spare room of your home. No gym membership is required. If you don't own a kettlebell you can buy one for about $50.00 online at various stores including Amazon.com, eBay, and PerformBetter.com. Sporting goods stores sell them too. I prefer and recommend the First Place brand which is sold at PerformBetter.com.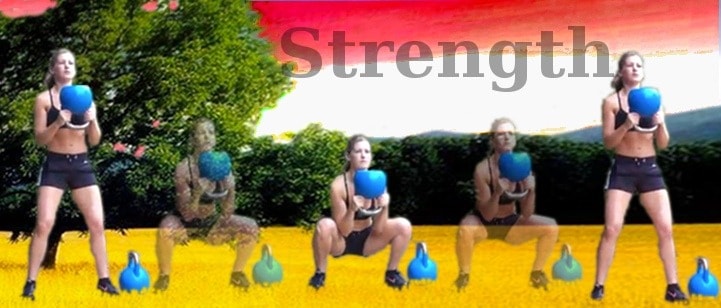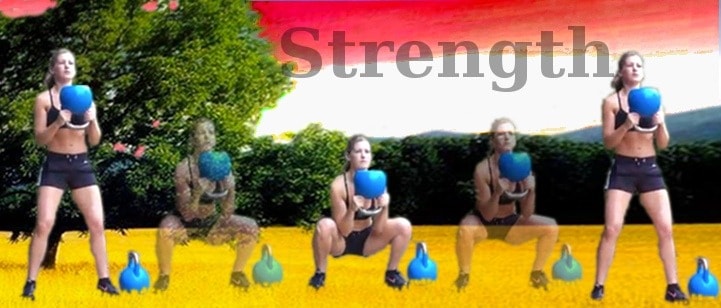 Kettlebell Workout For Women – Exercises
Below are the exercises you'll perform at each workout. Each workout will be done as a circuit. This means that every exercise will be performed one after the other, with no rest between each. Training this way will help you burn a lot more calories, during and after your workout. This means you'll lose fat faster. You'll get a great cardio workout when you train this way too!
I've included videos of every exercise at the end of the article to show you how they are performed.
Workout 1 (Monday)
Kettlebell Swings
Front Squats
Kettlebell Push Press
Planks
Workout 2 (Wednesday)
Front Squats
Kettlebell Swings
Kettlebell Push Press
Planks
Workout 3 (Friday)
Kettlebell Push Press
Front Squats
Kettlebell Swings
Planks
Kettlebell Workout For Women – Circuit And Rep Progressions
You'll perform every exercise except for the Planks for 8 repetitions. When you do Planks they should be held for 30 seconds. Make it your goal to add 1 repetition to each exercise and to hold the plank position for 15 more seconds every week. By week 4, you should be able to do 12 reps for every exercise and doing planks for 1 minute, 15 seconds.
Perform 4-6 circuits at every workout. The fitter you are, the more circuits you should perform. The opposite is true for the amount of time you should rest between circuits; the fitter you are, the less you should rest. Start with about 3 minutes and try to rest 15 seconds less every week. If you're just getting into shape you may need to rest longer between circuits.
Put 100% Into Every Set & Rep
Kettlebell workouts require lots of energy, focus, and endurance. That's why you need to make sure you'll have plenty of each before you do your first rep. The right sports nutrition supplements can make sure are able to give 100%.
Below are a few of my favorite workout supplements that will help you workout harder and lose weight faster.
Final Words
Now all you have to do is get work! If you've never trained this way before you're in a for a big surprise. These workouts, although short in duration are more intense than a typical gym workout and will, as a result really push you to work hard. The results are worth it since you'll lose inches quickly and your conditioning levels will improve fast. When combined with a diet where you eat enough protein to build muscle and keep processed carbohydrates (bread, pasta, rice, etc.) and simple sugars to a minimum you can lose 2 or more pounds of fat every week. The extra muscle you add will give you a lean, athletic look too.
Since this workout will help you build muscle, don't be discouraged if the scale doesn't show that you're losing weight. You're likely to lose fat and build muscle about the same rate. This may keep your scale weight about the same even though you look better. Instead rely upon how your clothes fit and what you look like in the mirror to track your progress.
Kettlebell Workout For Women – Exercise Videos
Kettlebell Swings

Kettlebell Front Squats

Kettlebell Push Press

Planks

Latest posts by Curt Pedersen
(see all)