There are few snacks or side dishes tastier than guacamole. It's especially great for all of us who follow a keto or low carb diet. This recipe for MCT guacamole is just delicious. Every creamy, savory serving you eat is loaded with an extra ingredient that will help your body burn more calories from fat and give you a boost of energy that lasts. 
It's also one of the best low carb foods you'll find. No need to worry about getting thrown off your diet or kicked out of ketosis as every serving (1 avocado) only has 4 grams of net carbohydrates. 
The special ingredient in this recipe, after the avocados is MCT oil. It's a tasteless fat that is used almost immediately by your body for energy. This also means there's no need to worry about the 135 extra calories per serving adding and leading to gaining body fat.
Get pure, sustainably sourced MCT oil for your guacamole here.

MCT Oil Makes Good Guacamole Taste Great!
The recipe in this article adds another keto friendly food, – MCT oil – to the recipe. Before getting into the recipe, let me tell you a little bit more about this unique fat.
Benefits of adding MCT oil to guacamole.
They increase blood ketones to put or keep you in nutritional ketosis.
They improve your mental and physical energy.
Eating MCTs help you stay full longer between meals.
It'll make your guacamole tastier and give it a creamier texture.
How Does MCT Oil Work?
MCTs, short for medium chain triglycerides, are a fat that's found in large amounts in coconuts. There are 4 different types. The two that are in MCT oil supplements are capric and caprylic acid. 
What makes these 2 types of MCTs helpful to us keto and low carb dieters is the way they're digested and used by our body. Instead of slowly making their way through your digestive system, they are immediately sent from your intestines to your liver and then put to work. 
The magic happens once they get to your liver. Once they've arrived, MCTs are used to make something called ketones. These ketones are then released into your bloodstream to be used as energy by your brain and other organs.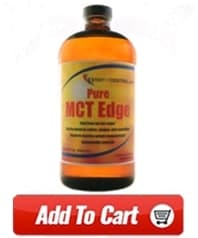 Increasing the amount of ketones in your bloodstream also helps to put you into nutritional ketosis, the state where your body is using fat for its primary source of energy.
They work so fast that you'll often notice feeling more focused and energetic within 45 minutes. This can last for several hours, depending on the other foods you've eaten.
Ingredients To Make Guacamole With MCT Oil
You only need 4 ingredients to make guacamole with MCTs. Once you have the basic recipe down you can add other ingredients to adjust the flavor. Chopped green onions and bacon are two of my favorites.
1 medium to large ripe avocado (should be soft to the touch)
1 tablespoon MCT oil (click here to buy)
1 tablespoon lime juice
1 teaspoon salt 
Additional Ingredients
Bacon (diced or crumbled)
Diced onion
Cilantro
Chopped jalapeno pepper
Chopped walnuts
Pomegranate seeds
Diced tomato
Required Tools And Utensils
Chefs knife
Spoon
Fork or potato masher
Medium size bowl
Wooden spoon or spatula.
Directions 
Cut the avocado in half lengthwise.
Remove the seed from one half with a spoon.
Using a spoon, scoop out the fruit of the avocado.
Spoon the avocado into your bowl and mash with a fork or potato masher. 
Mash until you achieve your desired consistency. 
Add lime juice, MCT oil, and salt and then gently mix with a spoon or spatula.
That's it! You've now made the world's best tasting guacamole. All that's left to do is eat. Share with your friends and family if you choose.
What Low Carbohydrate Foods Can You Eat With Your MCT Guacamole?
The traditional way to enjoy guacamole is to eat it with crispy, salty, corn tortilla chips. Unfortunately, that doesn't work when you're following a low carbohydrate or ketogenic diet. 
There are still many ways to enjoy your guacamole that's low in carbs. Some of my favorites are:
Pork rinds.
Low carb tortilla chips.
Eating is as a side dish with your meal.
Spread over a burger.
Chopped bell or poblano peppers.
Nutritional information For MCT Guacamole
Below is the nutritional information per serving (1 avocado) of guacamole. Your own caloric intake may vary depending on how much you eat. 
Be careful. This guacamole is addictive and the calories add up fast when you eat 2-3 or more avocados in a single serving.
Calories Per Serving (1 avocado) – 374
Protein – 3 grams
Fat – 35 grams
Saturated – 17 grams (MCT main source)
Polyunsaturated – 3 grams
Monounsaturated – 15 grams
Trans Fats – 0 grams
Carbohydrates – 13 grams
Fiber – 9 grams
Net Carbs – 4 grams
Which MCT Oil Is The Best For My Guacamole?
When choosing an MCT oil to add to your diet, you need to make sure of a couple of things. Doing so ensures that you're getting the best quality supplement to benefit your health.
The MCT supplement you choose must always:
Be sustainably sourced to minimize or prevent environmental damage.
Be free of any ingredients except MCTs (medium chain triglycerides).
Be made in a GMP certified laboratory so you know its ingredients are only what's on the label.
Be pharmaceutical grade to further ensure its purity.
Be flavorless and odorless.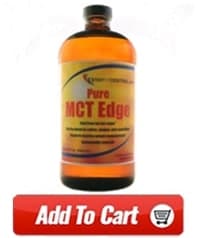 One supplement that meets these requirements is MCT Edge. It meets all of the requirements listed above and has enough servings per bottle to last you at least 2 months. Most MCT supplements have half as many servings at the same cost.
Click here to learn more and buy MCT Edge from our online store.
Sources
https://www.nutritionix.com/food/lime-juice/2-tbsp