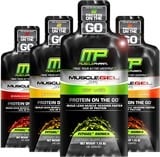 MusclePharm Muscle Gel Shots are a new, convenient way to give your muscles the protein they need to recover and grow bigger and stronger.
While most sports gels only have carbohydrates from simple sugars, Muscle Gel Shots have very little carbohydrates (2 grams) and 0 grams of sugar. Instead they're loaded with 22 grams of whey protein isolate, considered by many to be the highest quality protein you can buy. This is as much as you get from a scoop of protein powder or most high protein foods like chicken and steak.
The big difference here is that Muscle Gel Shots are ready to eat. You don't have to mix a shake or cook a meal. All you need to do is tear one open and squeeze it into your mouth.
Muscle Gel Shots have many advantages over food and protein shakes. A few of their key benefits are listed below.
Just tear open, squeeze and eat to get your protein fix, any time or place.
Convenience. No need to carry a cooler of food or a shaker bottle and protein powder wherever you go.
Ups the protein content of your favorite foods. Squeeze on yogurt, spread on toast, or use as a dip for fruit.
Works as a quick and convenient pre/post-workout source of protein and amino acids.
Each gel pack only has 96 calories. This makes them okay to use even if you are cutting calories to lose weight. Whether you are a guy or girl, if you workout to build muscle, lose fat, and look your best they're a great supplement to keep around, in the house, your gymbag, or desk at work.
Muscle Gel Shots are available in 4 flavors: Banana Cream, Cinnamon Bun, Key Lime, and Tropical Mango. They also come in a Variety pack. Each box has 22 individual gel packs.
You can buy Muscle Pharm Muscle Gel Shots from our online store.
Latest posts by Curt Pedersen
(see all)