Description
Stayfitcentral's Review of Controlled Labs Oximega Fish Oil
Controlled Labs Oximega fish oil is our favorite fish oil supplement. In choosing it, we tested dozens of other supplements over a period of months. At the end of the day, none of the other supplements matched up in terms of its dosage, purity, freshness, quality ingredients, and overall value.
After reading this review you will learn why Oximega fish oil softgels are a great choice for you and how they will benefit your health, body, and performance.

Independent studies show that it's free of impurities and actually packs even more healthy omega 3's into every capsule than what's on the label. This is key since many fish oil supplements aren't so safe and often contain less fish oil per capsule than the claim.
What Makes Oximega Fish Oil Great?
There are many reasons we chose it over the competition. Listed below are the 6 most important reasons. I feel they are the most important criteria a fish oil capsule must have for me to take it every day.

Key Features – Oximega Fish Oil
Enteric coating and orange flavor

means no nasty taste or fishy burps!

Tested for purity by the manufacturer.

Sourced from fish from small fish

(anchovies, sardines, etc.) which means no worrying about ingesting potentially harmful contaminants.

Concentrated formula

gives you more omega 3's in fewer capsules (1.2 grams per serving).

Great value.

When used as recommended a bottle will last 30 days.

Added antioxidants

help Oximega stay fresher, longer after it's been opened.
Taking a fish oil supplement with all of these positive attributes will help your body in many ways. I've listed the 6 most important benefits below for you to see just what it can do. All of them are supported by several peer-reviewed studies which are cited at the end of this review.

Oximega Fish Oil's Many Benefits
Fish oil supplements can decrease post-workout soreness.
Fish oil can help you lose fat faster by burning calories and decreasing your appetite.
Taking fish oil daily enables you to gain muscle, without lifting weights.
It can help you react and think faster during workouts and competitions.
Fish oil can boost your endurance so you can train harder, longer.
It helps decrease joint pain by decreasing inflammation naturally.
Its very good for the health of your brain and heart.
Frequently Asked Questions – Oximega Fish Oil
Below are the answers to the questions we are most frequently asked about this supplement. Read on to learn how much you need to take for best results, who should take Oximega, and much more.

How Much Fish Oil Do I Need To Take?
The recommended serving is 2 softgels. This provides 2 grams (2000 mg) of fish oil. From this your body gets 1.2 grams (1200 mg) of the omega 3 fats EPA and DHA. These are the 2 fatty acids that provide its benefits to our bodies.

You may need to take more or less every day based upon on your goals, health, fitness level, etc. Start with the recommended dosage and adjust every 3-4 weeks as needed.

As always, check with your physician before taking this or any other nutritional supplement.

When Should I Take My Oximega Fish Oil Supplement?
If commonly recommended that you can take your fish oil any time of the day. Taking it with meals may help with its absorption into your bloodstream. It may also help prevent an upset stomach if you're sensitive.

If you are taking 2-3 grams of EPA and DHA daily (4 softgels) as per your doctors orders you may find it more convenient to take it in 2 divided doses. This is what I do. I take 3 softgels first thing in the morning and then again at night, with dinner.

Who Should Take Oximega Fish Oil?
Anyone on a diet to lose weight
Men and women who want to naturally build muscle
Athletes that want to perform better and recover faster
All of us that want to optimize our overall health
Entrepreneurs that want to be able to think fast
What Is In Oximega Fish Oil Softgels?
Every serving (2 soft gels) contains the following:
800 mg of EPA and 400 mg of DHA – the omega 3 fats that benefit your body.
Vitamin E – to help keep your fish oil fresh.
Only 18 calories – all from healthy fats.
How Long Will A Bottle Of Oximega Last?
This depends on how many you take a day. Following the recommended dosage of 2 soft gels a day means that one bottle will last 60 days.

How Does Oximega Fish Oil Work?
The primary mechanism for its benefits is the ability for the omega 3 fats in every serving to decrease inflammation within our body.

Decreasing inflammation naturally enables your body to receive many benefits. This includes: less pain, weight loss, faster recovery from hard workouts, and the ability to concentrate better and react quicker.

Fish oil also acts to improve insulin sensitivity. This can make you less likely to gain extra weight or fat.

How Long Will It Take Before I See Results?
Research shows that it takes between 2-4 weeks to begin seeing results from fish oil supplements like Oximega.

The amount of time will probably be pretty variable and based on your overall health, activity level, and diet. This time also depends on what results you seek. If you want to improve your blood test results, lose weight, or gain muscle expect it to take anywhere from 4 or more weeks to see noticeable results.

If your goal is to decrease joint and back pain, recover faster between workouts, and it may only take a week – or less – to see benefits.

Either way, adding Oximega fish oil to your supplement routine is worthwhile. Once the benefits kick in they only tend to get better the longer you take it regularly. Try it for a month and let us know what you think.

Is Oximega Fish Oil Safe?
Fish oil supplements are shown to be safe for healthy and women to take in the amounts recommended by Controlled Labs, the maker of Oximega.

As always, speak with your doctor before taking this or any nutritional supplement.

As written above, Oximega is tested by the manufacturer for contaminants and impurities. This ensure you get the purest, healthiest fish oil possible.


Summary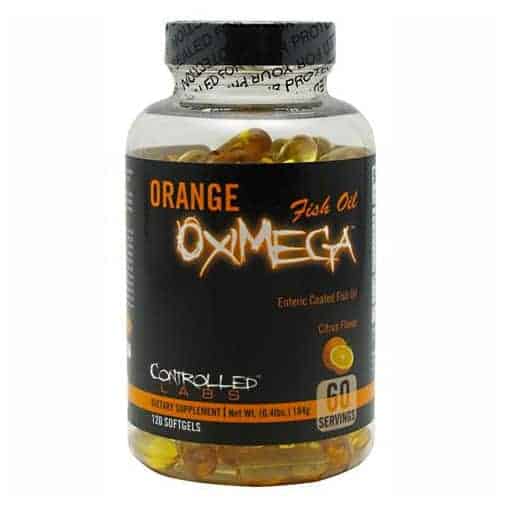 Author Rating





Brand Name
Product Name
Price
Product Availability