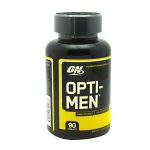 Optimum Opti Men is a multi vitamin and mineral supplement is designed, as the name implies, specifically for men. More specifically, its made for active men who works out and diets to look, feel, and perform your best. In addition to covering the basic nutritional bases, Opti Men contains extra B vitamins (over 350 mg) and 5 Opti Blends each which supports a specific aspect of your health.Opti Men Blends
Phyto Blend: designed to provide a blend of antioxidants from a variety of fruit and vegetables. Each dose of Phyto Blend is the equivalent of x servings of fruits and vegetables.
Amino Acid Blend: provides your body with the building blocks of muscle, etc.
Viri Blend: nutrients to keep your body produce testosterone and support your sexual health.
Enzy Blend: enzymes that help your body digest and utlize the protein you eat every day to build more muscle and stay healthy.
Opti Blend: vitamin and mineral blend providing all of the key nutrients your body needs.
In addition to these powerful blends, we also like the fact that you only have to take 3 tablets once a day. Other products that pack an equivalent nutritional punch require you to take 2-3 capsules several times a day. You can't beat the cost either. At just 13 cents a serving, Opti Men is the least expensive health insurance you'll find. Don't let the low cost lead you to believe that they use inferior nutrients. All of the vitamins, minerals, and other nutrients used are high quality. For example, each serving contains Magnesium Aspartate, Vitamin D3, and Zinc Citrate which are all regarded as the best forms of these nutrients.
We aren't the only one's who like Optimum Nutrition Opti Men. It is also favorite among the members of Bodybuilding.com. They give it an Excellent rating of 9.2 out of a possible 10.
When used according to the manufacturer's recommendations, a bottle of Optimum Opti Men will last 1 month. We recommend buying the 180 tablet size since it will cost less per serving and save you in the shipping fees you'll pay if you buy 1 bottle every month (90 tabs) as opposed to 1 bottle every 2 months (180 tabs).