There's no shortage of kettlebell trainers online. Especially on Instagram. A search of the hashtag #kettlebelltraining produces 497,000 results. Dios mio. That's a lot of posts.
This makes finding the guys and girls who're really good pretty tough. Even if you have hours of free time.
To save you, and me, time I spent 10 hours online going through hundreds of Instagram accounts of personal trainers that focus on kettlebell exercises and workouts for themselves and their clients.
Some of these trainers have more than 100,000 followers, some far less. What they have in common is that they're all very skilled in demonstrating great technique and programming effective workouts with just 1 or 2 kettlebells and a little bit of space.
I did my best to find trainers that can help you regardless of your goals. Whether you want a stronger core, to build muscle and get stronger, perform better at your sport, or get leaner and healthier there's someone on this list that can help you.
How I Chose The Best Kettlebell Trainers On Instagram
Here's the criteria I used to choose the top kettlebell trainers on Instagram.
They consistently use safe, and effective techniques in their videos.
There's something unique about the way they use kettlebells to get and stay fit.
Their workouts can be scaled so that those of us who're using kettlebells for the first time or are more experienced can benefit.
Doing their workouts is fun and leaves you feeling energized and uplifted, not beaten into the ground.
Keywords/Phrase here in title (h2) tags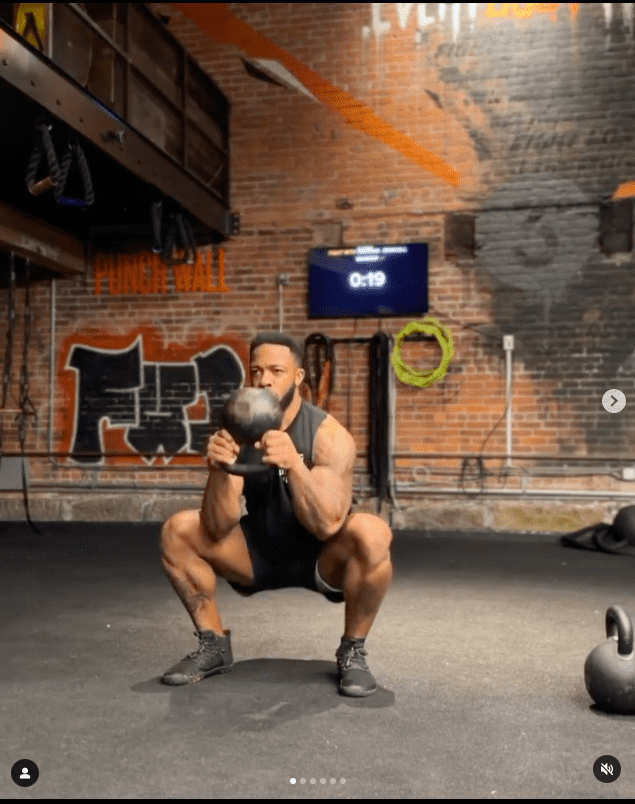 First of all, Adriell's has one of the coolest Instagram handles I've ever read. Hopefully I'll be this cool one day. Until then I'll keep checking his account for new updates regularly. He has a very large following (400,000 followers on IG alone) and has even been on popular fitness podcasts like Mark Bell's Supertraining show.
In addition to the unique nickname on Instagram, Adriell is a super strong athlete that really knows how to train with kettlebells. Here's a link to him doing a 485 pound trap bar deadlift to illustrate my point.
Following his account will make you better at them too. No matter what your ability.
Some of the things I like the most about Adriell's account are that he programs workouts that emphasize not just lifting heavy 'bells but also using them to build mobility. A good example are the different types of windmill exercises he adds to his programs. I also appreciate how he does a lot of his workouts at home, or at least someone's home. This shows how you can train intensely and with heavy weights without going to the gym.
Here're some highlights from his account that you need to check out.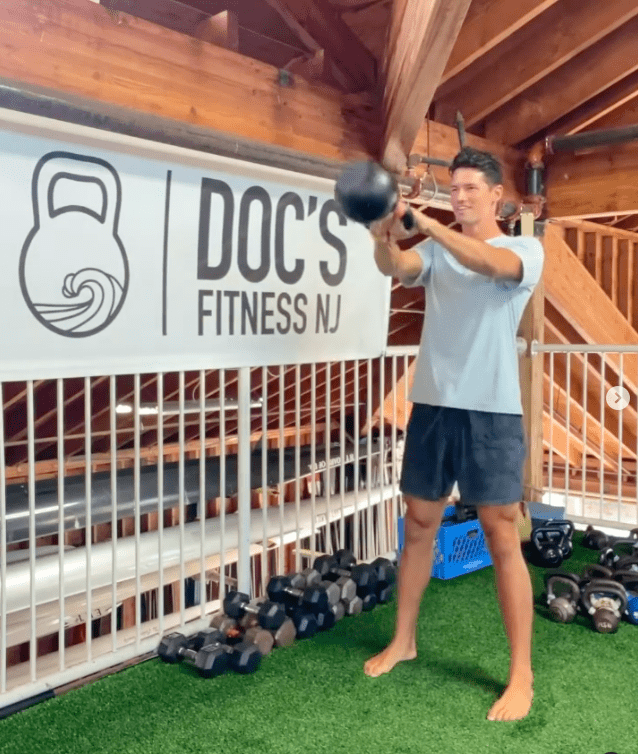 A former professional athlete, AJ is now a strength coach/trainer who uses kettlebells in his workouts.
A great thing about his account are the many types of high intensity (HIIT) style workouts.. Whether you are looking for an EMOM, AMRAP, or complex style of workout AJ has one that you'll love.
I also like that he also demonstrates proper form at the beginning of his videos for the primary exercise in the program. This is a great way to get started and be ready to use good form when you do the workout too.
Here are a few of my favorite workouts from his IG page.
20 minute single kettlebell circuit. In this workout you do sets of 1 arm swings, snatches, squats, and marches in 40 seconds on 20 seconds off sets. Resting ½ as long as you're exercising will really get your heart rate up and improve your endurance and strength.
1 KB 25 minute AMRAP (as many rounds/reps as possible). Here's a great workout that'll build your strength-endurance so you can train harder, longer. It's also a good workout for fat loss. AJ has you doing rows, presses, swings and core work, non-stop for 25 minutes.
2 KB Complex. This workout has you doing cleans, overhead presses, squats, and lunges all as one set. You don't do the complex once but as many times as you can in 25 minutes. What I like about this workout is he has you do 3 reps per movement. This makes it possible to use a heavy kettlebell for building strength.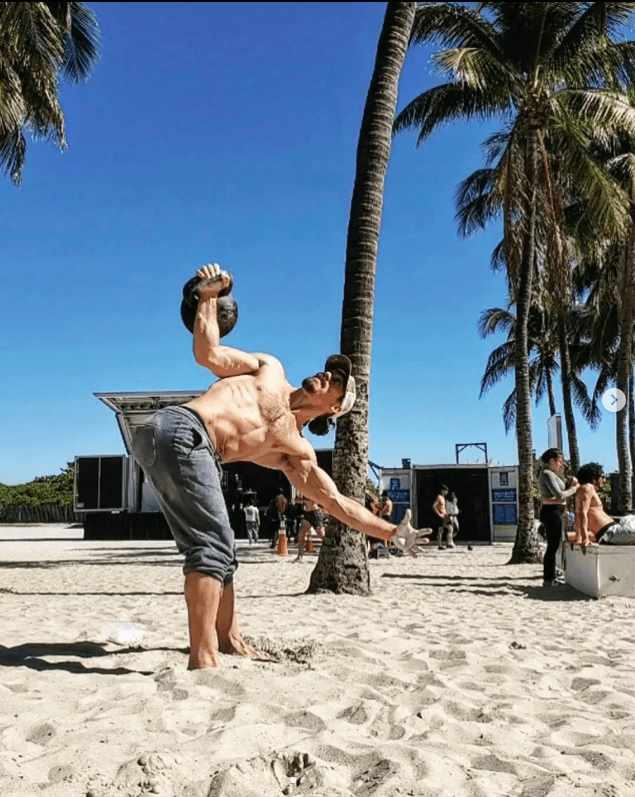 Like Adriell, Akira is a really strong guy you should follow on IG. Akira, aka the_quiet_conquerer's (make a link) account is packed with regularly updated videos of him training with heavy kettlebells. So much that I don't think he believes in taking it 'easy'.
His workouts focus on the big, total body kettlebell exercises like: windmills, 1 arm swings, overhead squats, and floor presses. Often using a kettlebell that's ½ his body weight.
Even if you aren't able to use the same amount of weight, there's plenty to learn from his account. Here's an example. A video he put up of himself doing kettlebell arm bars (link) taught me an exercise that's helped me tremendously. Doing jiu jitsu 4 times a week made my shoulders super tight. So tight I could barely extend them overhead. Learning about this exercise from Akira not only eliminated that issue but also made my shoulders stronger.
Another cool thing about his account is that Akira does a lot of his training outside in Miami so his pictures always have some sort of cool scenery to check out.
Here are a few links to cool stuff Akira has uploaded to his IG account.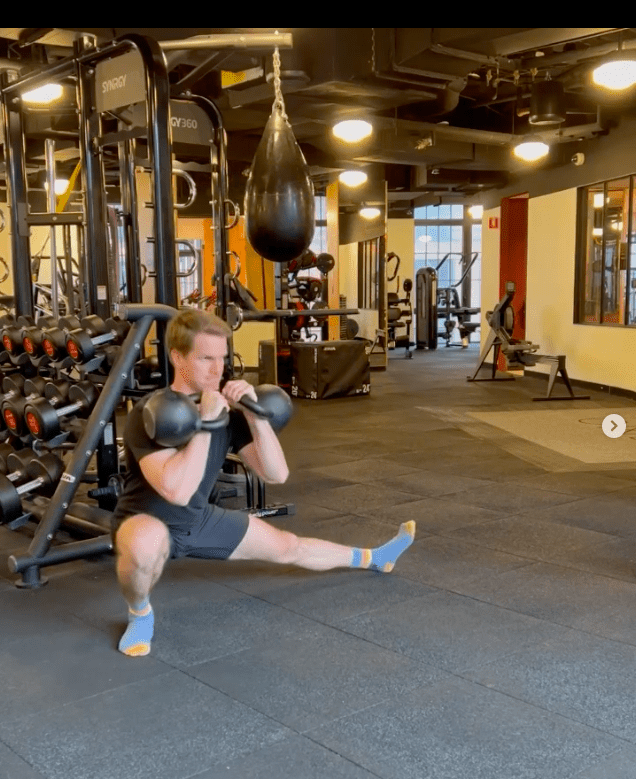 Based in NYC, home to several great kettlebell trainers, Alex's account will help you learn how to perform dozens of exercises to get into shape and build every muscle from your calves to your core.
He's a certified personal trainer and kettlebell instructor that shows you all sorts of ways to build a better body with kettlebells. While his workouts focus on what may be considered basic exercises, don't let that fool you. I've done a few of them and can vouch for the fact that they're super challenging and effective.
Check out this video of him doing cleans with a 48 kg (106 lbs) kettlebell for several reps to see how strong these movements can help you become.
Alex is also a great example of how kettlebells can help you build strength and endurance for other sports. According to one of his posts, he completed the Brooklyn marathon after running for just 3 weeks.
A few cool things you can learn from Alex's IG account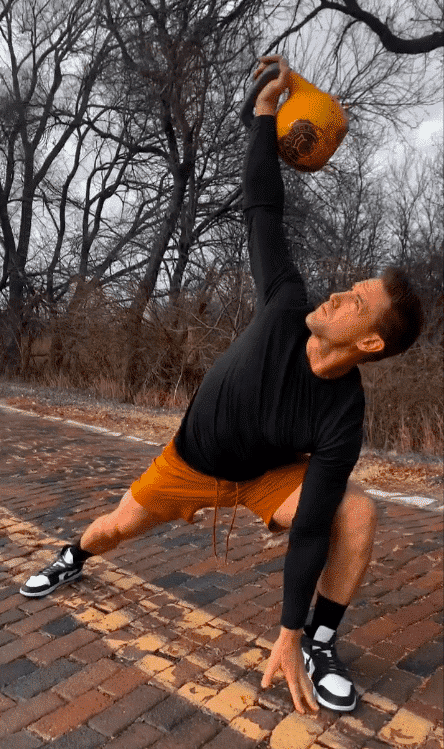 Imagine doing kettlebell snatches for 10 minutes straight. With a 32 kg (71 pounds) kettlebell in each hand. Bill not only does this in competition but is the 5x USA record holder at the event. He's also the first American to hold the title of MSIC (Master Of Sport International Class) in kettlebell sport. The highest rank you can have.
Even if doing10 straight minutes of snatches isn't your thing you can also learn a lot from a guy who excels at it. It's not all he does either. He gives us lots of tips and tricks to help you get more from your workout.
Here are a few of my favorites.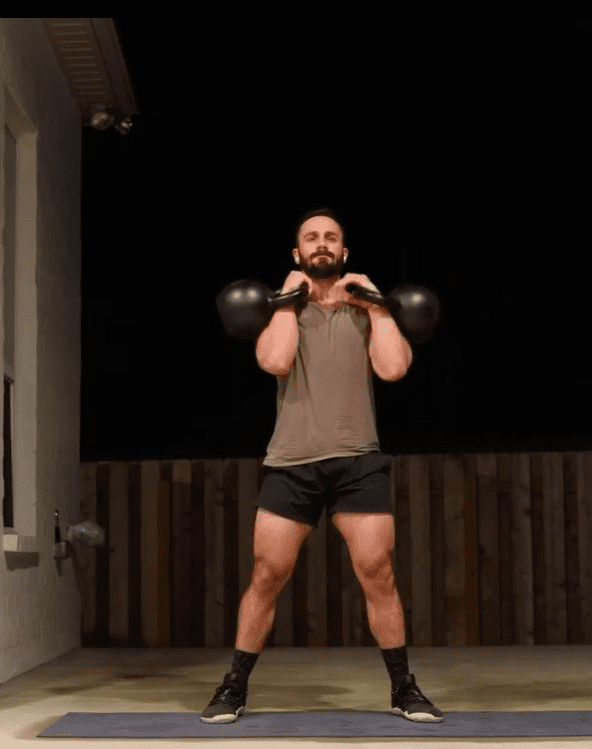 Want to get rid of your Dad bod? Are you getting older and want to never have one? If so, themartinmethod is an account you need to follow. Why? His tagline is Dad-bod denier and after watching a few of his posts, you'll know why.
The account owner, Cameron Martin updates regularly with awesome kettlebell exercises that'll help you build every muscle from your traps to your toes, while keeping the dad bod away.
Three things I really like about his account are how Cameron turns barbell exercises to kettlebells, makes core training a major focus, and the creative way he combines different exercises to make them into a movement that trains your entire body.
Here's a few examples.
Whether you're a complete beginner or having been training for years you'll learn something from his IG account. I sure did. It's because of Cameron that I added kettlebell marches to my workouts. Done standing in place, they're like stationary farmer's walks (link). They've made my core, legs, back and grip stronger than ever.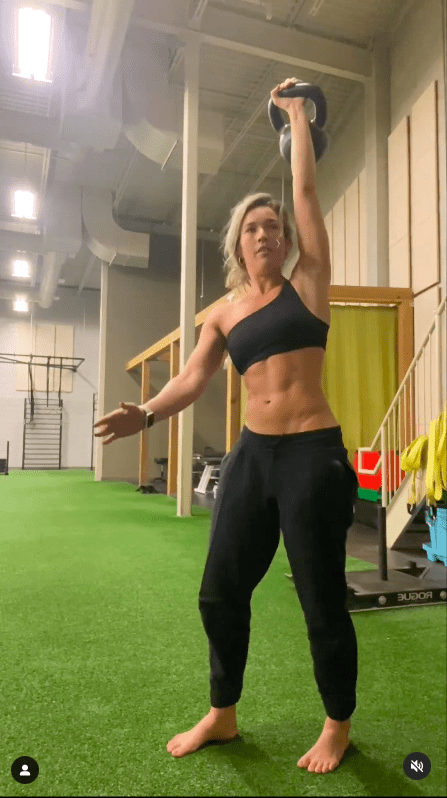 If you're interested in finding a new workout with great demonstrations and descriptions, Emily's IG account is for you.
She regularly updates with exercises and workouts that train every muscle. I recently included her description of kettlebell windmills in an article I wrote on ab training (link) for that reason.
Two other great things about her account are that she always includes a warm-up mobility component, often using a kettlebell and ends her workouts with conditioning work using body weight and kettlebell movements.
Here are 3 of my favorite exercise descriptions from Emily's account.
3 position KB lunge as a mobility/warm-up movement
KB ½ frog sit to overhead rotation
I also like this total body kettlebell workout.
Mobility/Structural – 3 sets
1️⃣ Armbar (circles/int. + ext. Rotarion/press) x60s/side
2️⃣ Suitcase + OH march x30s/side
Strength – 4 sets
1️⃣ KB pike hovers x5/side
2️⃣ KB straddle press x6/side
3️⃣ KB suitcase lunge x6/side
Conditioning 🔥
Burpee tuck jump 20-15-10-5
Kettlebell swing 5-10-15-20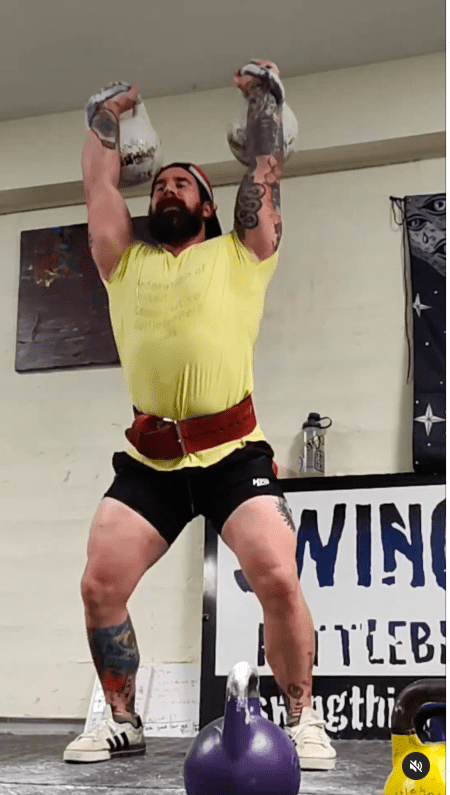 If you're interested in competing in kettlebell sport or just want to learn new ways to train with them, Joe's account is a great follow.
He's the 2022 gold medalist at the WKSF (world kettlebell sport federation – check) championships. To win he did 172 snatches with a 48 kg (103 pounds) kettlebell. In 10 minutes!
Even if you don't aspire to compete like Joe, there's a ton to learn from him. First of all, he figured out how to train, prepare, and compete to win a world championship. No matter what you want to improve, your workouts, career, etc. we can all learn from someone who has reached the pinnacle at something.
The other reason is that he has some really unique training content on his account. It includes videos that are great for motivation and new ways to train.
This includes: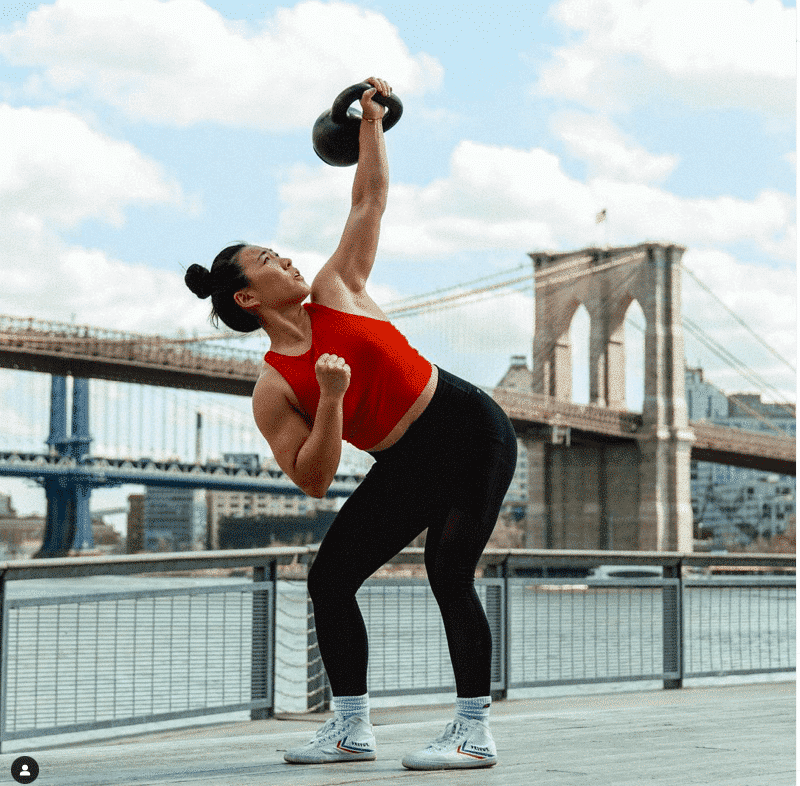 If you're not motivated to train harder after visiting Maggi's account something is wrong with you. Seriously. She posts videos of herself training hard with heavy kettlebells. Here she is doing a double kettlebell clean to push press with a 24 kg (53 lbs) 'bell in each hand. Followed by heavy 2 KB swings.
Like some of the others on this list, I like that Maggi shows you can do a kettlebell workout almost anywhere and that gyms aren't necessary. Like this photo of her doing a windmill at Pier 17 in NYC https://www.instagram.com/p/Cd7QiM0LH26/?utm_source=ig_web_copy_link.
Scrolling through her account will also show you that kettlebell strength carries over to exercises like barbell squats and this set of deadlifts where she does 8 reps with 235 pounds.
Here's An Awesome EMOM from her IG
💥 dead stop swings
💥 double front rack squats
💥 Turkish getups
💥 heavy 2-hand swings!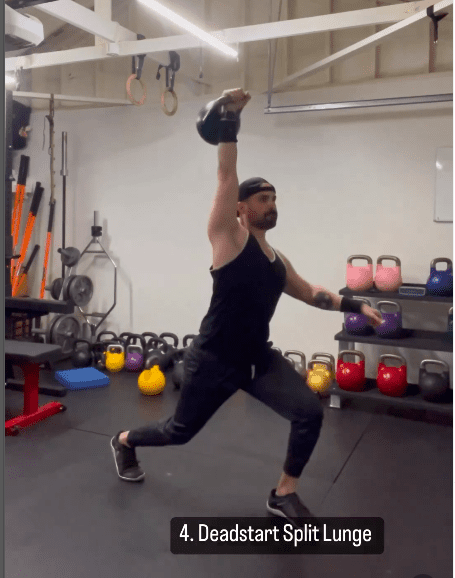 Marcus is the first kettlebell trainer I followed on Instagram. I learned a lot from him and do to this day.
In addition to being a great coach, his IG handle – @kettlebellexercises is the best I've seen for explaining what you do and promoting yourself as a kettlebell trainer. 
Marcus' account is great for beginners to advanced kettlebell trainees. He teaches it all. From the basic exercises like swings to workouts that incorporate several movements into one exercise.
Here're a few things about his account that I really like.
Most of the workouts he published involve training across multiple planes. This means exercises that have you moving in the frontal plane (example), sagittal (example), and transverse (rotational movement). Most workouts you'll find focus on the frontal. So, not only are his workouts total body, the train you to move in every direction too.
He taught me about kettlebell flow workouts and exercises. If you aren't familiar, these are sets that have you flow from one exercise to another. Here's a link to one where he does reps of 3 types of clean without putting the weight down or stopping to change hands.
He shows variations of the exercises demonstrated. When Marcus makes a video showing you how to do an exercise, you can expect to get 2-3 different ways to do them. This is a great way to learn an alternative method to do an exercise and have harder variations to try once you've mastered the basic exercise. Here's an example with the kettlebell snatch.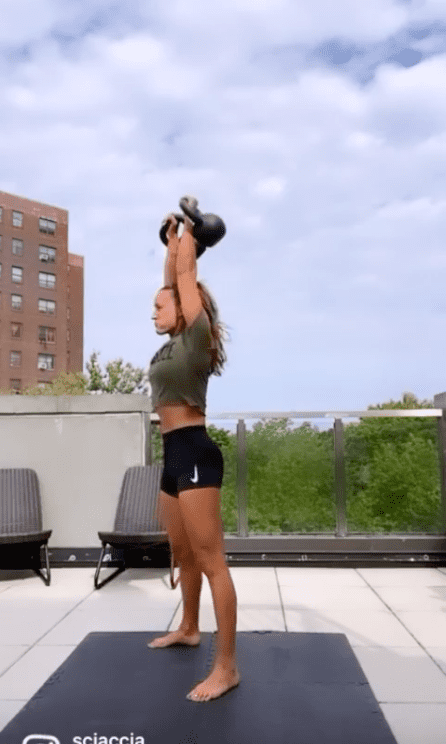 She's the globe trotting physician's assistant turned kettlebell coach that you must follow. Doing so will show you the world as Samantha travels it and help you perfect your swing, snatch, and Turkish get up technique. Plus she's originally from Philly which is reason enough to give her a follow.
She's RKC certified – one of the kettlebell world's original and most prestigious certifications – who focuses a lot of her account on proper technique in the core kettlebell lifts like the swing, clean, snatch, and get up.
After watching and practicing her tips your technique is bound to improve. Just get ready to dial in the details. Here's a clip of Samantha showing you how to better get into the setup or 'hinge' portion of the kettlebell swing.
I've been doing swings for years and her tip (to breath out when getting set up to do the lift really helped me up the power and speed of my swings.
Other great tips from her account.
Conclusion
Latest posts by Curt Pedersen
(see all)