4. Add Lemon Juice To Your Drinking Water And Food
When you eat a sugar-rich meal like a piece of cake or even a lot of fruit your blood sugar levels rapidly increase. They then drop very rapidly. This results in sugar cravings. Even if you are eating low carb, which typically keeps your blood sugar levels steady, you may occasionally eat a meal that spikes your blood sugar a little too much. A little lemon juice may solve this problem. There's a lot of evidence which suggests that adding it to your food or drinking water helps to keep blood sugar levels from increasing too rapidly after a meal, even when you eat a lot of sugar or processed carbohydrates (cookies, bread, pasta, etc.). It also helps to slow down the rate at which your food is digested so you'll stay full longer too.
I like to squeeze a quarter of a lemon over my vegetables or seafood. I also add a lemon slice to my water. I find it really does help. It makes my food and water taste better too, which is nice.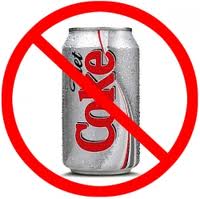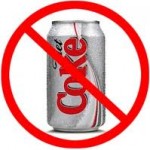 5. Skip Diet Sodas And Artificial Sweeteners
Sure, they may not have any calories or contain any sugar but consuming diet sodas and sweeteners like Aspartame may lead to you falling off the sugar free wagon and into a pile of doughnuts. Studies show that people who drink diet soda or use Aspartame (Nutrasweet) have larger waistlines and higher blood sugar levels respectively. The reasons for these effects, scientists suggest, it that the sugar like taste of these foods send signals to your brain which causes you to overeat sugary and fatty foods.
The next time you're craving something sweet and reach for a diet soda or food sweetened with Aspartame, skip it and take some glutamine or drink a glass of lemon water instead. Your cravings will go away and your waistline will thank you in the long run.

Final Thoughts
Now you know 5 things you can do to get rid of sugar cravings and keep them at bay for good. You may feel like it's impossible, but by using these strategies and remembering that your body doesn't need sugary foods to survive will help you kick the habit for good.