Learn more about the benefits of MCT in this article.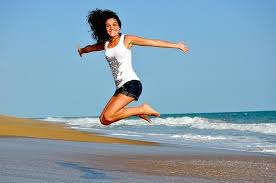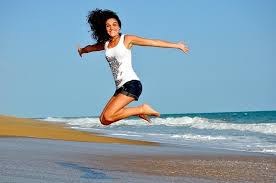 What Do Others Have To Say About MCT Powder?
I'm not the only one who knows this is an awesome supplement. Below are quotes from customers who include it in their diet.

"Doesn't bother my stomach like MCT oil."
"Helps me stay in nutritional ketosis."
"Keeps me full, energized for several hours."
"Helps my cravings disappear completely."
"It's my ketogenic staple, coffee creamer."
"Great for traveling where it is hard to take MCT oil."
Who Should Use MCT Powder?
This supplement is great for all of us who eat low carb and/or want to get the health advatages of medium chain triglycerides regularly.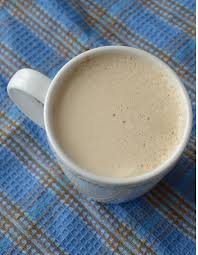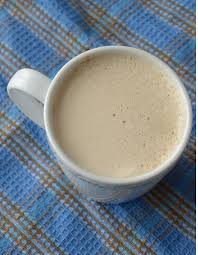 When And How Should You Take MCT Powder?
You can use it whenever you want to get more ketone boosting fats into your diet. Examples are: with your morning coffee for an instant energy boost, in protein shakes, and mixed into foods like sauces, soups, or anything baked.

I do a lot of high intensity Crossfit-style workouts and also like to take some pre-workout. I mix it with my BCAAs in water and drink it with nothing else added. It actually helps the typically nasty tasting BCAAs more tolerable. More importantly, the MCTs really give me a boost of physical and mental energy that lasts throughout my workout.

Another great time to use MCT powder is during a fast. Whether you are doing it for your overall health or to get into nutritional ketosis faster, it's really effective. Adding MCT powder makes it easier.

Granted this does add a few calories to the fasting period but it's not a big deal. The calories you get from the MCTs will be burned up quickly, as fuel. Even better, they will give you energy and mental clarity until you break your fast. I add a scoop to some water and drink it whenever I feel really tired or hungry during my fasts and it's helped me stick to the program every time.

When you're first taking MCT powder be sure to start slowly. While most users say it doesn't cause an upset stomach, your mileage may vary. Begin with a single serving and increase as you develop a tolerance. My wife can't take a full tablespoon yet, unless she divides the dosage throughout the day.
You can also read about the benefits you get from every spoonful to understand why so many people are turning to MCTs for health advantages!
Does MCT Powder Contain Any Carbohydrates Or Protein?
If it's a good product the answer is no. Always check the label of the product you're thinking about buying and make sure the protein and carbohydrate content is zero.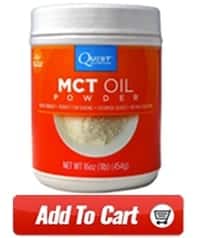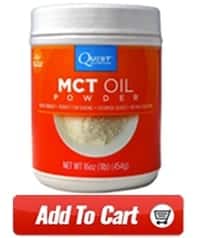 Which MCT Powder Is Best?
After reviewing and testing 8 products, the best in our opinion is Quest MCT Powder. It meets all of the requirements listed in this article for a quality product: no added carbohydrates/sugars, no protein, easily mixed in liquids, and has no flavor. It's also gluten free if you are sensitive to foods containing this protein.
Here's what you get with every serving (approx. 2 teaspoons).
7 grams of fat
1 gram of dietary fiber
60 calories
I also like that every container has 50 scoops at a cost of $.50 per serving. Many other products have a per serving cost of $1-2.00.

Quest MCT Powder is lactose free but does contain a small, pretty much immeasurable amount of sodium caseinate, a milk protein. It's used as part of the spray drying process and doesn't offer any nutritional value.

This MCT powder is also recommended by the experts. Domnic D'Agastino, PhD, a physiologist and noted researcher and expert in all things ketosis says he really likes this product.

He also follows a low carbohydrate diet and uses products like MCT powder to get and stay into ketosis throughout his busy days. He's not just a lab guy either. Domnic works out hard and has deadlifted 585 lbs. after 10 days of fasting and living in ketosis!

Click here to buy Quest MCT powder.
Conclusion
You now know what MCT powder is, its benefits, advantages, and how to use it for the best results. Give it a try and let us know how it helps you!